It was 2007. The Phoenix Suns eliminated the Los Angeles Lakers in the first round for the second year in a row. In the summer, Kobe Bryant infamously demanded a trade.
The trade never happened. The Lakers are now appearing in their third consecutive Western Conference Finals. And guess who's going against them? The last West team to eliminate them from the postseason: the same Suns.
These two teams are completely different now. The Lakers are the top dogs in the NBA while the Suns have a different cast of characters now save for Amar'e Stoudemire, Steve Nash, and Leandro Barbosa. This promises to be one hell of a series.
I bring back the boys from The Lakers Nation, Jason Riley and Chris Manning. Also joining us is Brian Kamenetzky, one of the Kamenetzky Brothers in charge of the Land O' Lakers Blog over at ESPN L.A.. So we're going to hit this Laker team from all angles. By the way, if you need more commentary from them, follow them on Twitter. Jason's username is @JRiley21, Chris's is @LD2K, and Brian's is @ESPNLandOLakers.
Answers are in purple. Get into it.
That seemed easy, didn't it? Jazz were out in four games. Is it safe to say that the Lakers are peaking at the right time?
JASON RILEY
Wait, what!? The WCF are still a go? I thought the NBA season ended with Lebron James' Game 6 loss in Boston? As sports writers, aren't we required to solely discuss that? I assumed David Stern would let us know when his emergency strategy sessions with Linda McMahon concluded and things could return to normal.
No? I made that whole thing up?
The Lakers/Jazz series followed a very tired script. L.A. builds a big lead, relaxes, and Utah makes a run. Aside from Game 3, you never felt like Utah could actually find a way to close the deal. They were completely outsized, and without Okur and a healthy Kirilenko, had really no chance of beating the defending NBA champs. You knew it, I knew it, and most importantly, the Utah Jazz players knew it, and it certainly showed on their faces during that short series.
Yes, the Lakers are peaking at the right time. Suddenly, D-Fish has found his range from downtown. In an even more shocking development, I watched him put the ball on the floor and attack the rim – with success – for the maybe the first time ever. That has to be a good sign for the Lakers backcourt. Additionally, Ron has responded well to Phil's criticism, the bench suddenly has a pulse and Kobe has 5 straight 30+ point performances, a great indication that he is feeling a lot better.
All in all, things are (mostly) starting to come together for the Lakers.
CHRIS MANNING
Yes, like Boston, the Lakers seemed to put it together at the right time. It's funny, too; part of that seems to be health but they really have turned it on. The sweep of the Jazz was certainly not a cakewalk; they exploited their weaknesses very quickly in every game and even gutted out, in my opinion, the best game of the playoffs in Game 3 with those clutch shots. I'd even argue if it wasn't for that fan that ran his mouth about Fisher's daughter (that's going WAY too far), this series might not have been a sweep.
BRIAN KAMENETZKY
I'm trying to keep a proper perspective. There's no question the Lakers are playing well, and have been since Game 5 of the Oklahoma City series. The flip side, of course, is there may not be a playoff-caliber team on the planet more perfectly designed to make the Lakers look amazing than the Utah Jazz, especially a banged up version of the Jazz. That had to have a little to do with it. But then again, the Lakers really were in control throughout, won twice on the road, and made plays when they needed making.
You can see the problem here?
We've all spent the season waiting for indications the Lakers would finally start playing in the way we expected they would with some consistency. There have been some false starts. This time, though, I'm willing to say it's not a mirage. First, they're getting healthy. With the exception of Andrew Bynum, everyone on the roster is healthier now than they were when the postseason began. Second, it's that time of year, you know? As much as complacency was a problem during the season, there's none of it now. Phil Jackson's track record says they peak around now, and until proven otherwise, I'm willing to give the track record the benefit of the doubt.
Andrew Bynum is needed in this series and the Finals should the Lakers get past the Suns. How is he looking to you?
JASON
Not good.
In both Games 1 & 2, he made early explosive moves to the basket (both baseline dunks). Each time, on the way back up the floor, he was flashing the Tracy McGrady face. By tip-off of Game 3 in Utah, he looked more lifeless than a Jermaine O'Neal contract extension. In the final two games of the Utah series, Drew logged 45 total minutes, scored 6 points (2-7 FG's) grabbed 11 rebounds and committed 7 fouls. That doesn't paint a pretty picture for the Lakers dominate the paint game plan heading into the Suns series.
Most distressing were weekend practice reports indicating that Bynum's knee was feeling worse than it did during the Jazz series (via Kevin Ding).
All in all, Bynum isn't looking, or sounding, very good to me right now. This is a major plotline in this series and one we will all be watching as the series kicks off on Monday night at Staples Center.
CHRIS
Bynum is putting forth the effort. Despite being injured, he's going after the rebounds and, honestly, that's the best indicator for me to say he'll be fine. The knee reports say he's in as much pain as ever, but he's a tough kid; he'll play through it. They're going to need his effort on the boards and defense more than offense. And even then, him and Gasol's chemistry allow them to rebound off each other as they both attract so much attention. Their job is to get Amare in foul trouble for this upcoming series and I say they can both do that, indeed. We'll see how he is Game 1 but I think he'll be ready to go. Don't underestimate the Lakers training staff. They do a hell of a job.
BRIAN
Well, he said Saturday at practice the knee is getting worse. That ain't good. He's having trouble with swelling, despite a week off. Again, not good. What's interesting about this series is Bynum can both be an asset and a liability. If he's mobile enough to play defense, he'll be able to stay on the floor and punish the Suns inside. But if he can't be as aggressive on the defensive side as he needs to be (Remember the first meeting of the season, when Bynum was all over the pick and roll? That sort of thing.) he'll be a liability. It wouldn't surprise me to see Phil Jackson use a very quick trigger with Drew if things go south at any give point in a game.
It'll mitigate the damage to L.A.'s D, and preserve whatever amount of PT Bynum has left in that knee. But he's more a luxury in this series than a necessity. But should the Lakers advance, they'll need Bynum against either Boston or Orlando.
Obviously, the team is playing well. Should we be concerned about anything else on the Lakers?
JASON
In addition to Bynum's knee (see above), the Lakers second unit is something to be concerned about. They have been unreliable for most of the season. They love to give up big leads, especially on the road. They typically find themselves on the wrong side of a big run. Lamar Odom, the distinct leader of the Lakers bench mob, has done very little to assert himself in this postseason. The Lakers bench simply cannot continue to ask the starters to win a game twice.
As far as the Suns second unit goes...
[More on this in a minute]
CHRIS
As mentioned, the only concerned is Drew's health. I think the Lakers have brought the required intensity needed to win it all. It's all about execution (damn, I really do watch Kobe too much) and they should be good to go. They're going to have to stay sharp defensively, which by the way, they've been amazing at the defensive end, and they'll be able to close out this series quicker rather than later. The Suns are like Utah with the speed of OKC. The Lakers won't be caught off guard by anything. Keep the defensive intensity up. Other than that, this team is rolling and the long layoff will do nothing more than really aid this older Lakers squad.
BRIAN
Yes. Health first- Kobe's knee, Bynum's knee, Artest's hands, LO's shoulder/knee, and so on. The Lakers are better off than they were a few weeks back, but the foundation is still pretty shaky. Beyond that, depth is still a problem. On any given night, the Lakers really have no idea what they're going to get from non-starters, even Odom. Behind Derek Fisher, who has been much, much better in the postseason, Shannon Brown and Jordan Farmar are still question marks. Luke Walton's back could go at any time. Sasha Vujacic is coming off a bad ankle injury... and when he gets back will still be Sasha Vujacic.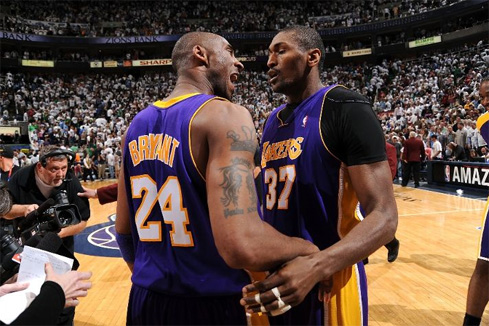 They certainly don't go as deep these days as Phoenix, or the Magic.
Say what's up to the Suns. It's still Steve Nash and Amar'e leading the troops but they're decidedly a bit different on the defensive end. Right?
JASON
Right.
The Phoenix Suns haven't suddenly morphed into the '04-05 Pistons (Bottom 7 in the NBA in just about every defensive category), but they have bought into the defense wins championships idea enough to be marginally better on the defensive side of the ball.
I think you have to give Alvin Gentry a lot of credit here. He has a roster full of offense-first guys (Nash, Amare, J-Rich, Barbosa, etc). Even so, nobody is questioning whether or not Phoenix can come up with key stops when they need them – something you certainly couldn't say about any other Nash-led Suns team.
CHRIS
Hi, Nash. Hi, Amare. We Lakers fans haven't forgotten 2006, 2007! And yes, this is arguably the best Nash-led Suns team since the start of his tenure there. The difference is, this Suns team also plays some serious defense. That's attributed to Alvin Gentry in my opinion. He's doing a great job. However, like every other team in the league, they're going to have some major problems with Lakers' length and size. As good as the Suns are, the Lakers are as good and better at closing out close games. If this is a grind-it-out series, like Utah, the Lakers should be able to close this out in 5. But yes, old Suns teams of efficient offense and high-scoring outputs meets DEFENSE makes this squad one you cannot underestimate.
BRIAN
It sure seems that way. During the playoffs, especially, they've managed to pick things up on the defensive end. More often than not, they're registering defensive efficiency numbers better than those logged during the regular season. Watching them play the Spurs, in those moments where the Suns needed stops, they got them. Talking to former Clippers coach Kim Hughes for our podcast (plug!), he noted the improvements Stoudemire has made on the defensive end, something that absolutely had to happen if the Suns were ever to be a genuinely decent defensive team. He also praised Alvin Gentry's ability to get the Suns playing on that end of the floor.
Still, the Suns are hampered by the fact that Stoudemire, improved as he may be, and Nash are still the worst defenders in their lineup, but it's not like they can be removed. Instead, they have to be protected. That's a tough way to play. In the end, the Suns still probably aren't good enough on that end of the floor to shut down the Lakers, assuming L.A. doesn't completely go off the rails and lose any sense of defensive identity. If they're going to win the series, it'll be with good-enough defense and some top shelf D. They can't afford to be any less than the machine of offensive efficiency they were during the regular season.
So what do the Lakers have to do to beat the Suns?
JASON
Control the Tempo. The Phoenix Suns will make it 3 for 3 in run-and-gun, up-tempo opponents for the Lakers in these playoffs. We all know that Oak City and Utah preferred to speed up the game, but nobody gets out and runs like the Phoenix Suns do. The Lakers will have to be even better than they have been at controlling the game and limiting Nash, J-Rich and Amare in transition. The best way to do that…
Pound the Ball Inside. Memo to Ron and Fish: Hoisting 3's (even open ones) are not a good idea against Nash's crew. The best way to neutralize the Suns fast break is to pound them inside, get to the free throw line and limit long rebounds and easy opportunities in transition. If the Lakers are committed to working through Pau and Bynum in the post, I don't see Phoenix being able to successfully counter.
Compete with their second unit. As I mentioned earlier, the Lakers second unit hasn't been all that dependable thus far. The Suns bench, on the other hand, has been outstanding. Dragic, Dudley, Barbosa, and company have brought energy and enthusiasm off the bench with them, and like we witnessed in that Spurs series, have been able to build leads and shift momentum while the starters rest. I don't expect the Lakers to win the battle of the bench, but they absolutely have to compete. If they don't, that could spell disaster for the Lakers repeat hopes.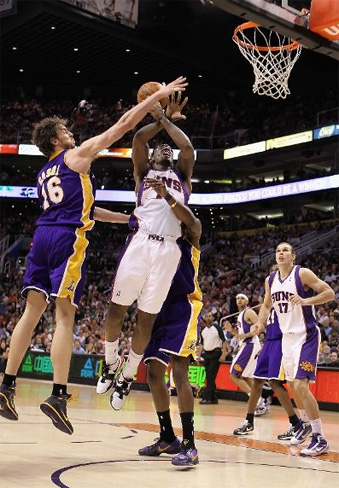 CHRIS
Pound it inside. Grab boards. Play defense. When the game is on the line, watch Mamba and D-Swish do their things in the clutch. The formula shouldn't change. The real key here is paying attention to defensive rotations off the pick and roll. Phx's PAR is arguably the best in the league for the duration of an entire game. Lakers will not only need to be prepared for that, but the backside rotations as well. The Lakers defended it very well against Utah so it's a good sign for the Lakers. The other key will be to focus to pound it inside and try to get Amare in foul trouble. If we can get him on the bench for half of the game or two, this series could be a short one.
BRIAN
Don't get sucked into their pace. Even more than it was against Oklahoma City, how well the Lakers perform will likely depend on their ability to hold on to the ball and demonstrate good shot selection. They are not good three-point shooters, nor are they great defending in transition. Unfortunately, I don't always get the sense they understand they're not good at three-point shooting, and thus end up getting burned frequently in transition. Particularly when they hoist quickly. Outside shots need to come in rhythm, preferably from inside-out passing, or penetration and kicks.
Beyond that, they need to attack Nash and Stoudemire as much as possible. Don't let them get comfortable, and use all their energy on the offensive side. And they have to plug the holes on the pick and roll. If they lay back, get on their heels and retreat into the lane, Nash will pick them apart. Defenders need to step out aggressively, decisively cut off angles, and whenever they can, try to deny Nash the ball in the first place. Easier said than done, of course.
No predictions needed because we're in the Final Four of the NBA. Anything you want to say to the Suns? The Suns' fans? The Governor of Arizona? Everyone else?
JASON
To all the Suns fans that are leaning on past success vs. the Lakers: '06-07 Lakers Starters (Lost to the Suns 4-1 in Round 1): Smush Parker, Kobe Bryant, Luke Walton, Lamar Odom, and Kwame Brown.
How is that past success sounding now?
As for the Governor of Arizona, well… I think I've written enough already.
Thanks, Rey!
(PS – Lakers in 6)
CHRIS
I've already said enough in my latest video. "Every sun that rises must set."
BRIAN
I like your team. I really do. I like their fun videos, and that save perhaps Nash everyone on the squad is in one form or another a cast off (or in the case of Stoudemire, nearly cast off), or has been written off at one point or another. They're like a squad from the Island of Misfit Toys. I like Alvin Gentry, and think he's done a great job digging the team out the purgatory they found themselves in during the Porter/Shaq era. They're an extremely easy team to like and incredibly fun to watch.
I just don't think they're going to beat the Lakers.
I don't think so, either. I still love you, Phoenix! I'm serious!
PHOTO CREDITS: 1 and 2) Andrew D. Bernstein/NBAE via Getty Images. 3) Christian Petersen/Getty Images.
Follow me on Twitter for my useless commentary on the NBA Playoffs. The user name is @TheNoLookPass.
And check out the FaceBook page. Take a look at it and LIKE it.
We're always up late. How about buying us a coffee? Or an energy drink!?