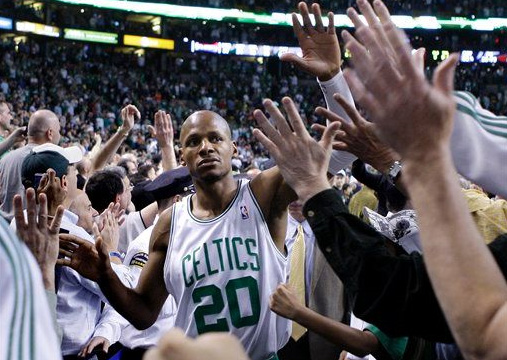 Guess who's back in the Eastern Conference Finals? After a one-year absence from the final four of the NBA championship tournament, the Boston Celtics have returned and are eight games away from claiming that 18th banner. They blasted through the Dwyane Wade-led Miami Heat in five games and embarrassed a LeBron James-led Cleveland Cavaliers team in six games.
Now they face a starving Orlando Magic team. The Magic haven't played in more than a week and are itching to get back to the NBA Finals. The Celtics, in the meantime, want to avenge last year's loss. The Magic also made history last year by beating the Boston Celtics for the first time ever when the Celtics lead a best-of-seven series, 3-2. So this is a clash I'm looking forward to.
Another individual that's looking forward to this? The ever-so-brash mastermind of Red's Army, John Karalis. He never gave up on the Celtics and is drowning himself in happiness after the Celtics slayed the Cavs. But he knows it's far from over so John comes back and talks to me about what the Celtics have to do to get vengeance against the Magic. By the way, follow John on Twitter at @RedsArmy.
John's answers are the same color as the Jolly Green Giant.
Wow. I can't say I expected this. I'm glad the Celtics won! But don't you think it's about damn time people give the Celtics credit instead of people saying LEBRON THIS and LEBRON THAT?
Nah, that's ok. I get why everyone is all about LeBron. His EPIC Fail is a big story. Plus, the more people talk about how LeBron failed, the more the guys in that Celtics locker room can say "Hey, what about us? Are we gonna have to smack someone else around to prove our point?"
Are you still afraid of some sort of meltdown from the Celtics or do you think they are now officially back?
They're back, baby. Orlando is a good team and this is going to be a great series but this team is playing its best basketball at the right time. Plus, they've got revenge on their minds from last season. They're going to be focused.
Which Celtics player are you most encouraged about?
Kevin Garnett looks great. He's healthier than he's been all year long and he's playing with a ton of confidence. It's hard to pick between him and Rondo but I'm going to go with the heart of this team. The C's are so different without KG in the lineup, and he was so good against Antawn Jamison, I can't help but be encouraged.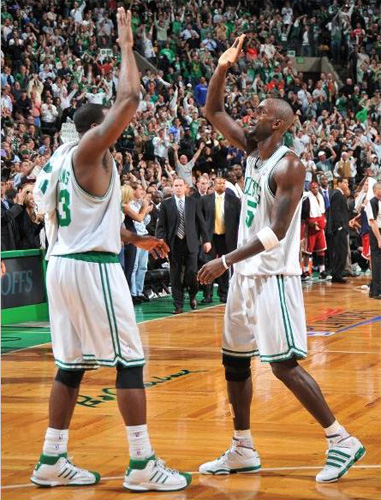 Hey, remember the Magic? They beat your boys last year. The Celtics may be better now with Kevin Garnett back but is this Magic team better from last year to you?
In some ways, yes… but in some ways, no. I still think Vince Carter can be a liability but Jameer Nelson is a little underrated. He'll be tougher on Rondo than Mo Williams… but I think you and I would be, too. Matt Barnes is a good addition but Rashard Lewis is disappointing. Dwight Howard is a beast, but he can still be played 1-on-1 by Kendrick Perkins. They're great when he needs to be doubled… but they're rather ordinary when he can be played tight by one defender.
What do the Celtics have to do to get back to the Finals?
Keep playing together. The Celtics' biggest weakness has been a tendency to relax when they think they've got things well in hand. They allow teams to go on runs, they turn the ball over, and it all gets ugly pretty quick. But if they focus for 48 minutes, they're pretty damn good.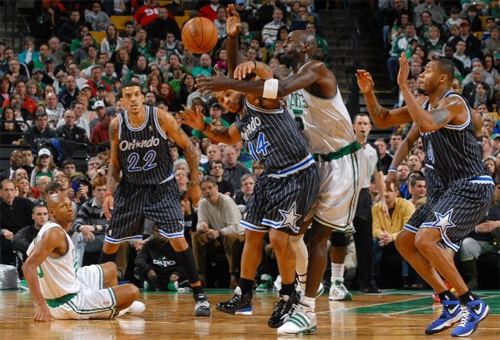 You can make a prediction if you want; I won't ask for it. But is there anything you wanna say to anybody? The Magic fans? The Magic? To me?
Prediction: Celtics in 6.
To Anybody: Hi, my name is John, I'm a Leo, I like the beach, puppies, and cuddling.
To Magic fans: Please don't take this personally. This is simply a matter of revenge.
To You: Is that a new shirt? It looks good on you. That's totally your color.
I'm not wearing a shirt.
PHOTO CREDITS: 1) Charles Krupa/AP. 2 and 3) Brian Babineau/NBAE via Getty Images.
Follow me on Twitter for my random commentary on the NBA Playoffs. The user name is @TheNoLookPass. What else do you think it would be?
And LIKE our FaceBook page. That's right! LIKE! We demand it!