Let's continue this 2010 Playoff Preview. TNLP (and friends… maybe enemies, I don't know) helps break down each Playoff team one by one!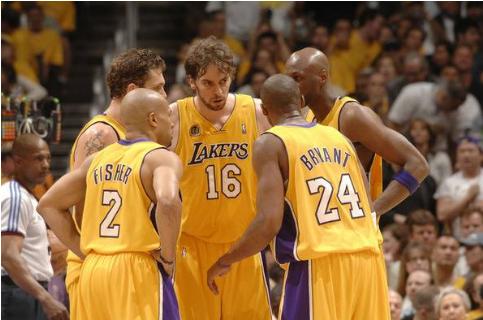 Saved the best for last. Okay, calm down, Laker-haters… but what do you expect out of a Los Angeles-based blog? In any case, the Los Angeles Lakers are the #1 seed in the Western Conference. Unfortunately, they seem to be a weak #1 seed right now. They're coming into the postseason having lost 7 of their last 11 games. A lot of players are banged up, in addition to them not playing well. Should we be legitimately worried going into this series against the unknown named the Oklahoma City Thunder?
I enlisted a lot of help in this preview. I talk to Jason Riley and Chris Manning of The Lakers Nation as well as Brian Kamenetzky from the Land O'Lakers Blog in ESPN Los Angeles. These guys are as good as they come when it comes to knowledge of the Los Angeles Lakers. You can follow all of them on Twitter: Jason's user name is @jriley21, Chris's is @LD2k, and Brian is educating Lakers and NBA along with his brother, Andy, at @ESPNLandOLakers.
Their answers are in purple. Enjoy!
They're going to come into the season with a losing record in their last 11 games. Andrew Bynum is likely not going to be the same as he was before he got hurt. Kobe Bryant is banged up. The mental state is not all there. The fundamentals haven't been great. Is this really a championship team right now??
JASON RILEY (The Lakers Nation)
Right now? No. The '10 Lakers remind me of the '95 Rockets. They struggled to defend their title during the regular season (47-35, #6 in West). They had major injuries throughout the year (Thorpe, Drexler, Horry and Vernon Maxwell all missed 18+ games). They were led by an aching, and again, superstar guard (Clyde, 32; Kobe, 31).
In the playoffs, Houston went the distance in the first round (vs. Utah) and the second round (vs. Phoenix) before flipping the proverbial switch in route to a convincing win over San Antonio (4-2) and the well-chronicled sweep of young Shaq and the Orlando Magic. With the parity in the western conference this season, I think the Lakers road to a repeat will look strikingly similar.
Just like the Rockets that year, the Lakers have a major edge in the experience department. If there's anything we have learned, in-experienced teams never win championships – which is why I think the Lakers will be able to squeak through a loaded western conference and into the Finals. Along the way, I expect them to become the championship team we all thought they would be.
CHRIS MANNING (The Lakers Nation)
This team IS a championship team, but they are most certainly not playing championship caliber basketball. The truth is, they are experienced enough to win close grind-it out type games in which the playoffs unveil. If there was a team for Andrew to come back and get acclimated back on the court too, I'm glad it's the Thunder and not a Camby or Duncan. He'll be able to get back on the court and dominate against a smaller front court against OKC and that's a good advantage for the Lakers. As for Kobe, I don't expect his shooting to pick up and I believe he should defer to Pau as the primary option much like the Kobe/Shaq days if this team wants to get far. They need to feed the ball inside and the Lakers will be dominant (inside) in this series.
BRIAN KAMENETZKY (ESPN Los Angeles)
No, not right now it's not. The good news is they don't have to be until June. Between now and then, the Lakers have to build to that point. There's no switch to flip- though I do expect their intensity and attention to be more consistent, but then again, the other teams ought to be raising their levels, too- but instead is a process. It'll look ugly at times.
You mention Bynum- he's key. Last season, the Lakers had the ability to win with an only mildly useful Bynum through the playoffs. This year, I don't think they can go all the way without him. He's practicing well, and if the Lakers can get him through this series, he'll increasingly be in better position to be a force.
But health is the big thing, here. They're completely banged up, no question. And if you look at their performance over the last 50 games, they don't measure up. Championship expectations are definitely not based on what we've seen from them this year, but what we all think they can be.
A lot of others think that Ron Artest has not been a good mix and I thought he was what he was supposed to be. What grade would you give him this season in the Lakers?
JASON
P – Pass.
The regular season is a pass/fail grade for Ron. He hasn't been spectacular, but we didn't need him to be. We brought Ron-Ron to Los Angeles for the playoffs. The regular season was essentially an extended warm up period.
Even in the latter stages of his career, Ron's greatest asset (and the reason we brought him here) is his ability to focus on and shutdown opposing superstars. It's very possible that a repeat would travel through Durant (OKC), Carmelo (DEN), Dirk (DAL) and Lebron (CLE).
If the Lakers come out of that, it will be largely in part to Ron's contribution. If they don't, well, it will be largely in part to Ron's contribution. I don't think we can give him a grade until the show is over – and hopefully, the curtain won't fall before the middle of June.
CHRIS
Ron Artest has been magnificent defensively. There still isn't a better on-ball defender in the league in my opinion. He's been able to defend the opposition on a nightly basis and really take people out of their games. It's nice to have a player that can make game changing plays on the DEFENSIVE end of the court. If I were to grade him, I'd give him a solid B+. The only thing holding me back from an 'A' is he hasn't seemed to consistently find his outside shooting yet; though he wasn't brought here for his offense. I think we should give him the opportunity to play his first post-season as a Laker before we truly gauge his value though.
BRIAN
B-, overall. There have been A moments, there have been D moments. Defensively, he's really made a very large impact, particularly when the rest of the roster is there to raise the collective level of the group. There have been games Artest took over by himself, representing an absolute terror for the opposition.
The problem is his comprehension of the offense seems to have regressed over the course of the year, and his shooting has dropped off a cliff. Since he was the only guy on the roster seemingly capable of hitting threes with some predictability, his fall off has hurt.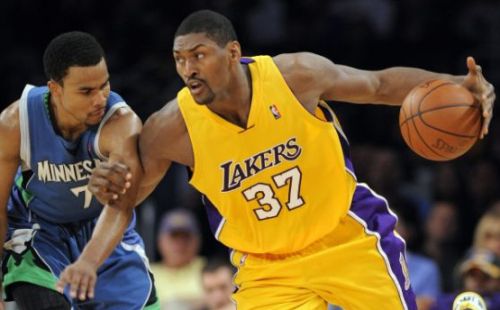 Kobe has been shooting horribly as of late. Should we worry about his performance in the Playoffs?
JASON
Yes and No.
Yes, because Kobe is legitimately bothered by that injured finger on his shooting hand. He's been missing shots he routinely makes. In April, his scoring is down (22ppg) and his shooting percentages are way down (30% FG, 31% 3PFG, 74% FT). You simply can't ignore those numbers.
No, because Kobe is Kobe. He lives for the postseason, and as he has done his entire career, he finds a way to elevate his play on the biggest stage. Until proven otherwise, I think you have to expect the '10 playoffs will be no different for Mr. Bryant.
CHRIS
: No. He'll be able to come through. Kobe Bryant is still the best player in the league (unless, of course, you're a stats guy) and I think that people don't give him enough credit for playing with a broken finger. Of course, if you're into numbers he's going to look horrible shooting wise, but at the end of the day, nobody will care when he holds up that trophy. But I do believe he needs to defer to Pau Gasol as their number 1 option. This team can't win with Kobe consistently shooting 4/25. Should be interesting…
BRIAN
Yes. Yes, you should. It's a health thing. The rest he took near the end helps, but doesn't solve any big problems. He's one well placed whack on the broken finger from total inconsistency, and I wouldn't be shocked to see the knee and ankle flare up during the postseason. He's just not whole.
We're not as familiar with the Thunder as we are with the Spurs and the Blazers. Was this the worst-case scenario for L.A.?
JASON
Absolutely not.
Oak City is extremely young – and we know how that usually ends in the playoffs. Additionally, not a single key player on their roster (Durant, Green, Westbrook, Sefolosha, Harden) has ever been in a situation like this before. With the injury to Nenad Krstic (who may give it a go anyway), they may be the smallest team in the NBA – not a good weakness to have, considering the big front line of the Lakers (Gasol, Bynum, Odom, Artest).
We simply don't win in Portland (won there once in 5 years), and the Spurs have been rolling through the NBA like its 2003. I like the Lakers in six games, where-as I think Portland (with Brandon Roy only) and/or San Antonio would have had a marginal chance to pull off a major upset. I don't think Oak City has any chance to do that.
CHRIS
I think the Thunder was the best case scenario. The main reason being Bynum will have a chance to get back against a weaker frontline. As he finds his rhythm, he'll have a much easier time against OKC. By no means will it be easy, but I fully expect Bynum and Gasol to have a dominant series against the Thunder. It could swing our momentum completely and who knows… maybe there is a metaphorical "switch" for this Lakers team.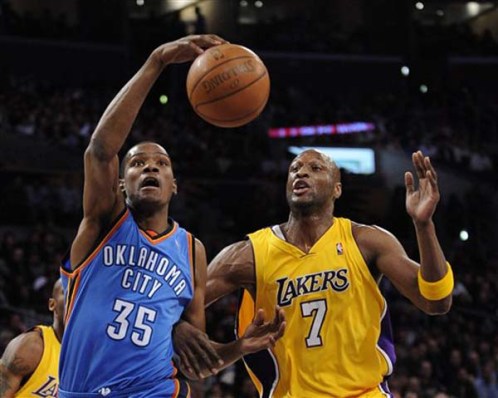 BRIAN
The consensus said the Spurs were the most dangerous team. Playing well, tons of experience, and so on. Personally, though, I think the Lakers know exactly what SAS will bring, and know how to counter it over seven games. Ginobili and Duncan would have to be spectacular in a series, over all seven games, to win. Portland scared me the most until Brandon Roy hurt his knee.
The Thunder are the definition of a wild card. They're the devil they don't know. On paper, they're scary. If they're able to overcome the inexperience factor, the team provides any number of matchup issues for the Lakers. Westbrook is a very active, very talented point guard. Durant is an elite scorer. Sefolosha guards Kobe as well as anyone. They punish turnovers. Save a late slump, OKC's defense was the conference's best over the second half of the season.
The Lakers have an impressive advantage down low, and the best player in the series (assuming good-enough health for 24). And all the experience, which matters.
What are the keys to winning the series for the Lakers?
JASON
Dominate the Paint.
This accomplishes two things. (1) It exploits Oak City's biggest weakness (Size) and (2) neutralizes their biggest strength (run-and-gun).
Control the Tempo.
Westbrook and Durant in the open floor could spell disaster for the Lakers. If we can successfully accomplish our first key (above), it will essentially accomplish this second one as well.
Limit Runs.
Being young, exciting and athletic, Oak City is an emotional bunch. Spotting them big runs (I.e. 12-0) only builds their confidence; and in Oklahoma City, excites their already keyed-up crowd. We have struggled with defensive lapses all season, and the Zombie Sonics are a team that can certainly take advantage.
CHRIS
Pound the ball inside. We can't afford to take jumpers and play outside-in. We'll lose this series because the Thunder thrive on run outs. We also should play to our strengths and slow the game down. If we control the tempo, this will be a sweep. Sadly, I don't think that will happen because the Thunder are quicker, younger and more explosive. If they run, we're going to be in for a long, long series. Quite simply, feed Pau Gasol and when the game is on the line…. well, OKC will witness first hand what Kobe does.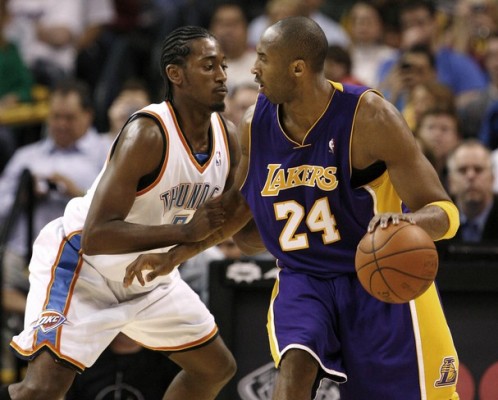 BRIAN
1) Involve the bigs. It's not a question of shoving the ball down there for shot after shot, but of letting them touch the ball, then moving around them. Gasol can create havoc with his passing as much as his scoring.
2) Don't turn the ball over. The Thunder aren't a spectacular half court team, but are way too quick in transition for the Lakers if they turn the ball over. Make OKC earn their points.
3) Find ways to free up Kobe off the ball. If things bog down and Bryant becomes isolated repeatedly against Sefolosha, I don't like their chances. He's not healthy enough to make that work.
4) For all the hubbub over PJ's comments about Kevin Durant and superstar treatment- there's no question Jackson is trying to screw with KD's head- how often he goes to the line is a huge issue. He's a 30 point a night guy who gets 10 attempts a game, and shoots 90 percent. If the Lakers, who had the lowest opponent's FT rate in the league, can cut Durant's average number of FT attempts to, say, six or seven, that's a big deal.
Prediction?
JASON
Pau Gasol leads us in scoring (22+ppg, 12+rpg); Durant plays great at home, but struggles at Staples Center; Oak City gets the split in L.A., but we ultimately win a surprisingly tough series in six (6) games.
CHRIS
I'm going Lakers in 5. I think the Thunder will get a game. I have faith this will be the time the Lakers re-establish their dominance and regain the swagger. If not, this could be a long series.
BRIAN
Lakers in six. A tough six in which the Thunder make them look bad at least once.
Anything else you want to say?
JASON
Be sure to follow me on Twitter! You can also check out my weekly column – Out of Bounds – for the Lakers Nation; or listen to me ramble every week on the Basketball Taboo Podcast.
Links:
Out of Bounds Column
[http://thelakersnation.com/blog/category/original-articles/out-of-bounds/]
Basketball Taboo Podcast
[http://thelakersnation.com/blog/category/tln-exclusive/basketball-taboo/]
Twitter
CHRIS
Check out my playoff video "Weathering The Storm" today. The storm is upon us yall! LINK IS RIGHT HERE.
BRIAN
Thanks!
PHOTO CREDITS: 1) ??? … 2) Mark J. Terrill, AP. 3) Gus Ruelas/AP. 4) Alonzo Adams/AP.
OTHER PLAYOFF PREVIEWS
West #2: Dallas Mavericks
West #3: Phoenix Suns
West #4: Denver Nuggets
West #5: Utah Jazz
West #6: Portland TrailBlazers
West #7: San Antonio Spurs
West #8: Oklahoma City Thunder
East #1: Cleveland Cavaliers
East #2: Orlando Magic
East #3: Atlanta Hawks
East #4: Boston Celtics
East #5: Miami Heat
East #6: Milwaukee Bucks
East #7: Charlotte Bobcats
East #8: Chicago Bulls
Follow my NBA blurbs on Twitter. I am @TheNoLookPass. And check out our FaceBook page.