Let's continue this 2010 Playoff Preview. TNLP (and friends… maybe enemies, I don't know) helps break down each Playoff team one by one!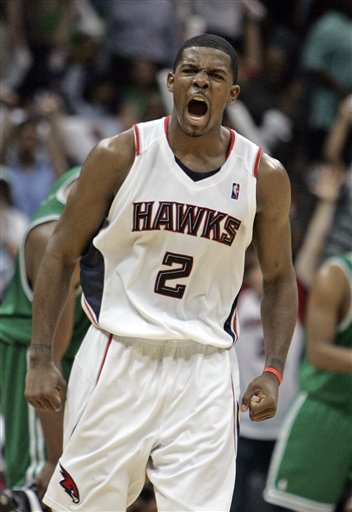 I went on record last year and said that the Atlanta Hawks didn't excite me. But I watched them more and more this season and saw a team that is getting closer and closer to the elite. Maybe they already are. They're the #3 Seed in the East and have those young Bucks from Milwaukee as their first-round opponents.
I had a talk with Jason Walker from Peachtree Hoops about these Hawks. I also had a talk with E.J. Prince from the site called DaYoungSportsExec, who was switching home bases between the ATL and L.A. He gave me a write-up about his opinion of the Hawks. You can catch Jason on Twitter at @THHB and you can talk to E.J. on his Twitter account at @iamcutdacheck.
First off, my Q&A with Jason. His answers are in dark reddish font.
We all said that Atlanta is not an elite team. And now they're the #3 seed in the East. Do YOU think they're an elite team in the East?
They have elite team talent–but they aren't there mentally on a night-in, night-out basis. Too often they take the temperature of the team that's playing to gauge how hard they'll have to play to win. This isn't what top shelf teams do. But when they are focused, especially at home, they can make teams look awfully bad, as their 34-7 home record and easy wins over Utah and LA can attest.
Is this really Joe Johnson's team? Or Josh Smith's team?
There is a lack of floor leader on the team. The ball, especially at the end of games, is in the guard's hands first, so that's why you see Johnson, Crawford, et al controlling games late for the Hawks. The fact is that the Hawks rise and fall by the play of their frontcourt, Smith and Al Horford—if those two guys aren't on, especially defensively, it's a rough road for the ATL. Oh, and if those jumpers that Johnson and Crawford are taking in the fourth quarter aren't falling–even moreso.
Tell me how much you like the addition of Jamal Crawford to the Hawks.
He was acquired to be an upgrade on the Flip Murray role last year. Success. He has provided another avenue late in games, which was desperately needed. He has also melded well into the high team chemistry that exists within this core because he is a tremendous person–just a great, unassuming cat who can become the personification of the NBA JAM On-Fire guy. The bench was a very sore spot last year, and it showed in the playoffs. Getting Crawford for the magic beans that were Acie Law and Speedy Claxton to fix that was the definition of something for nothing—of which I am a huge fan.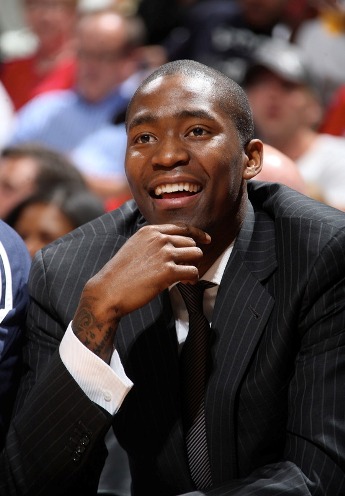 The Hawks are facing the Bucks, an up-and-coming (surprise) team. What scares you about them?
A lot less now that they have become a more one-dimensional team without the impact of Andrew Bogut in the middle. But they have a slew of shooters–and when those guys get hot, as John Salmons did in the second half of this matchup a couple of weeks ago, teams will struggle. Also, you have to respect the level of effort they play with, generated by the presence of Scott Skiles over there on the bench. It's a solid team that will challenge you—would have been a great, great matchup with Bogut—now I believe the Hawks have even more reason to believe they will win.
Give me a few keys for the Hawks to win the series.
In this season, and really throughout the whole season, the key is for this very talented team to show up focused and ready to play for (48) minutes. When they don't you end up seeing a lot of isolation (inside and outside) and standing around offensively, leading to a marriage to the jump shot and a lack of rebounding and lane protection defensively. The Hawks have to focus on defending the boards to beat teams, because there's no fixing the leaky perimeter defense and the glass can be made unprotected by the constant defensive switching the Hawks deploy.
A. Focus for Forty-Eight
B. Defensive Rebounding
C. Ball movement and attack on offense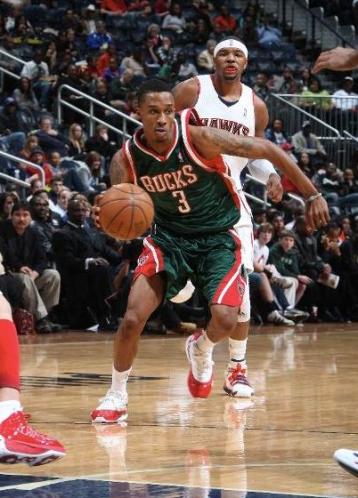 Predictions for the series?
If the Hawks do the above, with the Bucks without Bogut, there's no stopping the Hawks in four games. However, their track record doesn't indicate they will do that, especially if they come out smoking in Games 1 and 2. With history as our guide, and the Bucks tenacity, I think the series could reach six games before the Hawks take them out.
Anything else you want to say?
The Hawks move the ball so well through their frontcourt—it's something that folks who don't watch this team regularly might not know. Josh Smith is near the top of his position in Assist Rate, Assist+, and assist to turnover ratio. When he gets the ball at the elbows, just inside the arc, he can make some very effective passes.
The Hawks run the same two plays at the beginning of every game: A screen set to get a shot for Joe Johnson, and then a screen set to get a shot for Mike Bibby. I'll be interested to see if they switch that up now that it's playoff time.
The Hawks take care of the basketball, which has aided their ability to be so efficient offensively (#1 in Turnover Rate, #4 in offensive efficiency).
Because of their leaky perimeter defense (due in part to Bibby's age and Crawford's limitations), they like to take chances on defense and try to get out quick to score some easy hoops. Josh Smith will sometimes look like an All-Pro DB picking off a pass and taking it the distance. When he misses, the ensuing 5 on 4 is trouble.
This is a team with the talent to win it all—I really believe that—but they still have some mental hangups and basketball habits that prevent them from overtaking the top teams in the playoffs—hopefully now will be the time for it all to come together!
And here's what E.J. Prince had to say about the Hawks.
The Atlanta Hawks return to the playoffs for the third straight year under coach Mike Woodson. Atlanta's 13th ranked offense is powered by shooting guard Joe Johnson and veteran point guard Mike Bibby tallying 102 points a game. Forward/Center Al Horford was an NBA All Star for the first time this season despite Atlanta choosing to neglect its Achilles heel from last season, rebounding. Hawks acquisition of potential sixth man of the year Jamal Crawford has helped the Hawks improve upon a sometimes stagnant offense, but was this done to improve open up their offense against the east elite?
The addition of Jamal Crawford was a surprising business move especially after resigning Mike Bibby. While the Atlanta Hawks still lack size, they have potentially provided more cap space during this summer's free agency in case Joe Johnson sees brighter lights in New York. I predict the Hawks win this first round series in 7 games, the key to the series for Atlanta is the bench, Zaza Pachulia and Marvin Williams must do more than just collect a check if the Hawks want to take advantage of their home court advantage.
While it seems unlikely that Mr. Under Armour & Rookie of the Year candidate Brandon Jennings can beat the Hawks four times (without home court advantage) it is even more unlikely that Atlanta could win more than a game against a probable second round matchup with the defending Eastern Conference champs, the Orlando Magic.
Remember…
PHOTO CREDITS: 1) ???… 2-3) Scott Cunningham/NBAE via Getty Images.
OTHER PLAYOFF PREVIEWS
West #4: Denver Nuggets
West #5: Utah Jazz
West #7: San Antonio Spurs
East #4: Boston Celtics
East #8: Chicago Bulls
Follow my NBA blurbs on Twitter. I am @TheNoLookPass. And check out our FaceBook page.