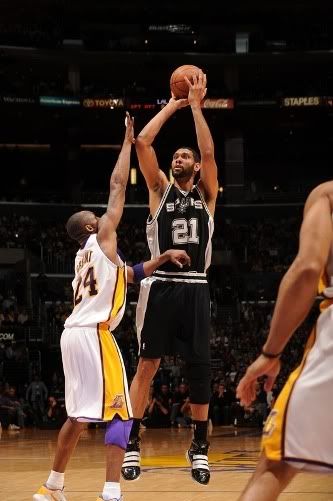 As mentioned yesterday, the Spurs beat the Lakers by 19 on that matinee game last Easter. This prompted Jeff Garcia from Project Spurs to have our monthly conversation about these two teams. Of course, he'd call me out after a huge win! Anyway, he hosted our chat this time. Here's an excerpt of what we talked about…
Jeff: Suck on that LA!
Rey: It's a big win by San Antonio. It's just… hard for me to be concerned about the Lakers. I don't know what to think of them.
Jeff: Sure you guys didn't have Bynum but we didn't have Tony Parker and lost George Hill and still got the W.
Rey: As I always say… the Spurs will never die.
Jeff: Speaking of never dieing, Manu torched the Lakers. Dropped 32. Uh I thought Ron Artest was a perimeter defender?
Rey: He let the technical get into his head. Really threw him off. He should know better.
Jeff: Oh I see you are now sounding like Phil Jackson. Nice job Rey!
Rey: Oh, give me a break. Do you see me blaming the referees?
For more of the conversation, go to Project Spurs.
PHOTO CREDIT: Noah Graham/NBAE via Getty Images
Follow me on Twitter. My name is @TheNoLookPass. Also, visit Jeff Garcia at Project Spurs for everything San Antonio Spurs-related. And follow him on Twitter at @sa2ny2004.
And please… join our FaceBook page.