Hey, Bill Plaschke and Bill Simmons… were you guys watching?
This column by Plaschke (he called Ron Artest an awkward fit with the Lakers) didn't sit well with me. It really makes me wonder whether Plaschke actually watches Laker basketball.
I've made my point about Ron Artest HERE, HERE, HERE, and HERE. Again, what did people expect out of Ron? The ball HAS to be shared if a team is top-heavy. And he was NOT expected to be the second or even third option of the team… so I thought he wouldn't even average double digits this season. He's averaging 11 points per game, which is pretty respectable despite not knowing the Triangle full well yet AND having teammates like Andrew Bynum, Pau Gasol, and Lamar Odom. Oh, yeah. The Lakers also employ some guy named Kobe Bryant. So there really aren't enough shots to go around. I only expected Ron to get maybe seven or eight shots a game (he averages almost ten).
So it was just PERFECT when Ron basically changed the complexion of the game in that 92-83 win over the Spurs. Artest played a monster defensive game. He gave every Spur he guarded fits and finished with five steals, to go along with his 16 points and 8 rebounds. I understand that his role is to shoot three-pointers (he will have those open A LOT)… but this time, he forced the issue a little bit more with overpowering drives to the basket, especially off transition. Yes, the Triangle is a complicated offense but can't we just give him credit for averaging 11 points a game as compared to the guy Plaschke was championing in his column, Trevor Ariza? This is really no disrespect to Trevor because I love his game, too… but Ariza didn't even average 9 points last season (he didn't crack the starting line-up until late in the year). Yes, Ariza came through in the postseason but rest assured that Artest will bring it in the playoffs. Defense wins championships. That's what people always say. What does Ron do especially well? Defense.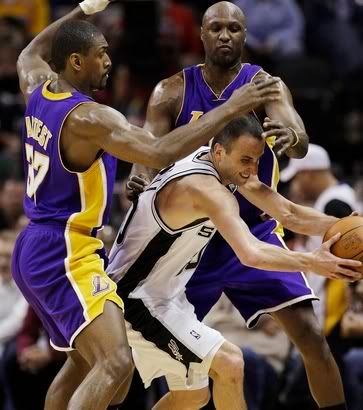 Plaschke chose to ignore every other defensive gem that Ron Artest has done this season except for his performance against Carmelo Anthony in a big win against Denver. What about Artest's performance against Danny Granger? Kevin Durant? And, by the way, if Ron Artest has lost a step… I'll take that. He's averaging 2.6 steals per game in the month of March. And he's only getting stronger and quicker as the season goes on.
Again, I'm not saying Ron is a perfect fit for the Triangle; he still has a long way to go. But he's doing the best he can and, while he's still trying to figure out (11 PPG is NOT BAD for not having figured it out) the offense, he has been great on the other side of the ball. Plus, give him credit for being an absolutely good citizen in Los Angeles this season.
But did y'all see what he did to Matt Bonner, Richard Jefferson, and Manu Ginobili? They couldn't put the ball on the floor with Ron around. That's how great he was defensively in this game and I expect him to do more of that just as he's done previously. But definitely chock this one up to another of Ron's great defensive performances this year.
And to those that think Ron Artest is just some one-hit wonder this season… well, even his teammate Pau Gasol was asked that question about Ron's supposed awkward transition to L.A. by Lakers sideline reporter, John Ireland. Gasol then answered, "It's unfair to him… (Ron) has given us GAMES LIKE THIS BEFORE… we won a championship without him and we wanna win a championship with him."
Once again… I love Trevor Ariza's game but, if I had to choose, I'd rather have Ron Artest in a Laker uniform.
Follow me on Twitter. My name is @TheNoLookPass. Unlike some people, I DO watch the games.
And please… join our FaceBook page.