I don't do Laker GameDay Q&A's too often but this gives us a chance to get to know other teams.
The Sacramento Kings are tonight's opponents for the Lakers. They have a bright future with rookie Tyreke Evans on the helm. And they have played the Lakers very well this season. In this Q&A, I talk to Zach Harper, the man behind the super Kings blog, Cowbell Kingdom (part of the ESPN TrueHoop Network). And, of course, you may have heard of TalkHoops Dot Net; he is behind that site also. Watch how fast this conversation goes wrong. Gotta love it.
Zach's answers are in purple font.
You were high on the potential Tyreke Evans/Kevin Martin duo. Then Martin was traded and now the Kings have Carl Landry. How much do you (dis)like this trade?
I love the trade for the simple fact that it gives the Kings' offensive attack some balance. The Martin-Evans duo would have absolutely worked if Spencer Hawes and/or Jason Thompson had been effective scorers inside. The team had no balance to the offense and the Kings were trying to get their two best players going on the perimeter without giving the defense something to respect inside. Because of that, the opposing teams could overplay the perimeter with a wall of long defenders sitting behind them. Now, teams can't do that as much. You have to respect Landry inside and with his face-up jumper because he can score on anybody. This opens up shots outside for Donté Greene, Omri Casspi, Francisco Garcia and Beno Udrih. More importantly, it gives Tyreke Evans some room to operate and a safety valve to dump it off to when he gets stopped in the paint. The trade has worked out perfectly for this Kings team.
Granted, it was at the start of the season when we talked about the Kings in our podcast… but Jason Thompson was playing well then. His play has dropped off since 2010 started. What's up with that?
I wish I had a better answer than this but he simply just played like crap. He rushed everything inside. In the beginning of the season, it looked like he was able to slow the game down and take his time on offense. But towards the end of December until recently, he played way too fast. He would also get too low on his post moves in order to get good position but it essentially turned him into a much smaller player. He was a 6'11" guy playing in the post like he was 6'5″. He also wasn't defending well or cleaning the glass. The effort seemed to be the problem for a short time but after a couple of weeks, you could tell it was mental. If a bounce went the wrong way, he started overreacting it. He complained more than usual to officials and it affected his motor. Now, since coming back from his back injury, the effort is a lot better and he's been feasting on second units off the bench.
Francisco Garcia just returned recently. What kind of impact has he made since his return?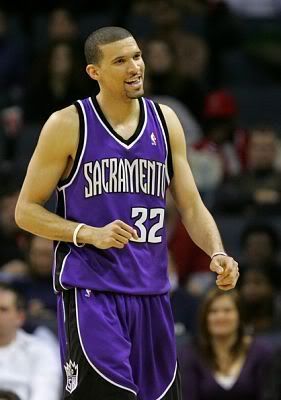 Cisco has given the Kings another reliable shooter on the court to put in the corner and give Tyreke someone to kick to during drives. But his biggest asset he's brought to the Kings is his defense. He's not a great defender but he works hard, plays solid defense and doesn't give up on plays. He tries to come from the weak side and create a little chaos with big men. He did a good job of defending guys like Kevin Durant and Brandon Roy for short stretches.
Okay. We know Spencer Hawes is still weak and that Beno Udrih is still playing well… but let's talk about the main man, Tyreke Evans. Rookie of the Year shouldn't even be a debate. How high is this guy's ceiling?
Look, Stephen Curry has had a great run since January 1st and Brandon Jennings is going to the playoffs and has a cool/weird Under Armour commercial, but Rookie of the Year shouldn't even be discussed unless you're awarding Tyreke Evans. He's averaging 20.3 points, 5.6 assists, and 5.1 rebounds per game. He also plays really good defense. People say that Jennings plays good defense for a rookie and the same with Curry. Evans plays good defense for an NBA player and could be All Defense for many years in this league. He's a good jumper away from being a consistent problem. The 20-5-5 thing he's doing has been done three times before as a rookie and all of those players ended up being either HOFers (Jordan, Oscar) or a future HOFer (LeBron). He has no ceiling right now if he gets a jumper. If he doesn't, then a poor man's Dwyane Wade is a very good probability.
All right. This is the third game between the Kings and the Lakers. And they would have won a game each had Kobe not made that three at the end of their second game. Plus Tyrese Evans (as our man, Jimmy, calls him) didn't play in the second game. Someone else has always stepped up (Udrih on both games, Hawes on the second). Do they really match up that well against the Lakers?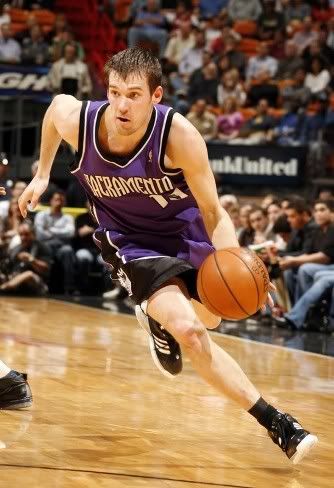 I actually think they do match up well with the Lakers for the simple fact that the Lakers play down to their competition and the Kings rarely give up in games (unlike last season). With the Kings, you have to suffocate them for one quarter and play them even the other three. The Lakers didn't really do that in the first two meetings. Even though Spencer Hawes is pretty soft, the Lakers frontcourt doesn't have the mental toughness to benefit from that. Now that Carl Landry can get the Lakers bigs into foul trouble, the Kings can take away some interior defense from the Lakers. If that happens, Tyreke Evans will go nuts. And when Tyreke goes nuts, big things can happen.
So are you going to call the upset? Your main man, Reggie Theus (Coach Fuller), did it last year!
I really want to call the upset. The Kings had two really good games out of their last three, they've played the Lakers close this year and the Lakers just spent 48 minutes running with the Warriors. The Kings finally have some low post scoring they can rely on and Tyreke Evans is going on a tear right now. The Lakers still don't have any good point guards and the Kings have enough defenders to throw at Kobe to make him work a little harder than he should. But the Lakers bigs are still… well… big. They should be able to dominate the boards and score at will. Kobe can still get hot from outside and destroy this team. And the Lakers are so much better than the Kings they should be able to roll on them. So with that… screw it. Let's go nuts! If Reggie Theus can pull it off, Paul Westphal can get his team to steal one. I'll say the Kings win by 4. Do I really believe it will happen? No. But it's more fun to pit us against each other.
Do I owe you a drink if the Kings do pull it off?
Excellent idea! Winner buys the other a drink at the next Blogs With Balls or if you can make it to Summer League this year to help me jeer Adam Morrison. And winner also gets to pick the next karaoke song! Do you like Celine Dion?
Sure. I'll bite. I hope you like New Kids On The Block.
As long as I get to be Donnie Wahlberg, I'm game.
It'll be dangerous if that does happen… but, anyway, thanks to Zach for doing this little Q&A. He is also one of our 8th Seed brothers. Actually, let me recap on what sites he is a part of.
HIS General NBA Blog: TalkHoops Dot Net
Sacramento Kings Blog: Cowbell Kingdom
Also Makes Contributions At: Hardwood Paroxysm
Also, we collaborated (along with Michael De Leon of Project Spurs) to do a podcast about the 90's TV Show, Hang Time. You don't believe us? Click the link.
And you can follow Zach at either @talkhoops or @Cowbell_Kingdom.
Follow me on Twitter. My name is @TheNoLookPass. And you know that I do a mean Leona Lewis rendition.
And please… join our FaceBook page.