Kobe Bryant became the all-time leading scorer for the Los Angeles Lakers franchise.
I wonder if people realize how huge that is.
Kobe Bryant became the all-time leading scorer for the Los Angeles Lakers franchise.
We all know who played for the Lakers. Jerry West (the LOGO). Magic Johnson. Kareem Abdul-Jabbar. Wilt Chamberlain. Gail Goodrich. James Worthy. Shaquille O'Neal. Magic Johnson. Elgin Baylor. George Lynch. Okay, ignore the last one. But that's a list of perennial All-Stars and some of the best players in the HISTORY of the league.
And Kobe Bryant has scored more points than every other Los Angeles Laker in history. While Kobe didn't have the greatest past, what you have to respect about Kobe was how he kept honing and working on his craft. It might be cliche for some but he's always looking for ways to make himself a better basketball player. His work ethic is unmatched and there's a reason why people think he's the best NBA player today. But you know what? Let's throw away all the comparisons for a minute here. Let's forget LeBron James for a bit here and let's not talk about how Michael Jordan compares to him. Let's talk about Kobe Bryant the basketball player. Let's get the time machine really quick and look at what makes him tick.
It seemed like basketball was all what Kobe Bryant knew. He knew he was going to be a great pro and probably gave himself even higher goals as his career went on. That's the reason why he jumped to the pros at 17 years old. And he knew he was going to get recognition playing for a storied franchise so he made sure he got to the Lakers. He would play behind another great player in Eddie Jones but there was a reason why Jerry West went out of his way to get him. West knew he was going to be great. But THIS great? Who knew, right?
It's because Kobe worked on his game. Remember when he airballed three times against Utah in an elimination playoff game? He would learn from that. So he worked. And kept working. There were times when Kobe irritated me as he stole most of Michael Jordan's mannerisms, including Jordan's patented fadeaway. But you know what? He just kept working. Until Kobe made that fadeaway into his own.
Eventually, Eddie Jones was pushed aside to make way for Kobe. And Kobe rose to the challenge. The points started piling on. And the accolades started coming in. He would work tirelessly on both ends at the floor. And by the time he got his first ring, he was only 21. Was he satisfied? No. He kept working on his game.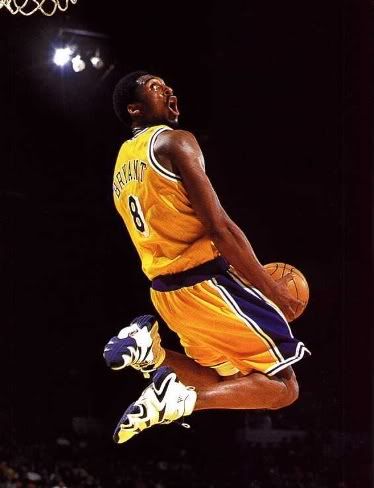 When Shaq got hurt, Kobe was handed the keys. Kobe wanted badly to be the best player in the league to the point that it irritated his team and the fans. There was no doubt about his work ethic but he was doing it way too much just to prove a point. Eventually, he got hurt and watched. Then he realized how much of an asset Shaq was. So Kobe... worked to acclimate his new next-level game with Shaq and they went 15-1 in the playoffs.
He would win a third title with Shaq... and would've won a fourth but he was clearly worn down from the battles in a different court and battles with Shaq. Whether or not Kobe made the final push to get Shaq out of there is debatable but Kobe found out how life was without someone like Shaq in the middle. He missed the playoffs for the first (and only) time in his career. With his reputation taking a huge hit, he did what only he knew how to do. Just continue working on his basketball game and everything will be all right.
And Kobe did turn a new leaf when Phil Jackson got hired back. He did whatever he could and carried a hodgepodge of characters named Chris Mihm, Kwame Brown, and Smush Parker to the playoffs two years in a row. But no matter how much work he put in, his team just wasn't talented enough. I know he drove L.A. crazy when he demanded Andrew Bynum to be shipped out. But again... no matter what was said out on the media, he just did what he had been doing his whole career: work on his game.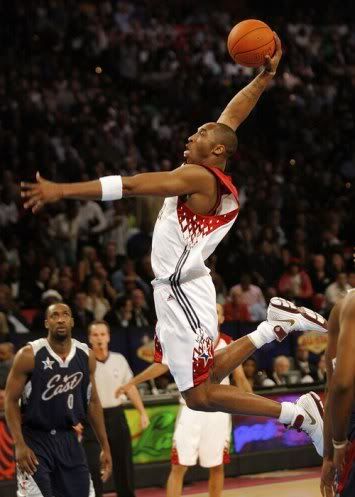 He finally did return to the Finals after the Pau Gasol fleece. The Lakers lost to the Celtics in a renewed rivalry. But he didn't put his head down and mope. He added new moves to his arsenal and came back the next season stronger. They finally returned to the mountaintop in June and Kobe got his fourth ring. Now in his early 30's, I'm sure Kobe has this on the back of his mind: he can potentially be the greatest that ever played the game. It's obvious that he's still not satisfied with a fourth championship. So he went back to work. Kobe spent some of his time getting taught by Hakeem Olajuwon so that he can add more to his ever-growing arsenal of moves.
So yeah, I get it. I just did a career retrospective of Kobe which I'm sure you've seen hundreds of times elsewhere. But the point I'm trying to hammer here is that Kobe's work ethic is why Kobe is on top of the Laker all-time list of scorers. He never stopped working. It was hard for him to endure the rape charges. But he continued working. He wanted to get traded. But he continued working. He has had battles with teammates. But he continued working. He may even drive a lot of us NBA fans crazy. But he continued working. This endless work is why we are witnessing possibly the best player in this era. He is never satisfied. That's why he's suddenly the all-time leading scorer for this storied franchise.
And the reason why I did this little look back? I took him for granted... and I'm sure a lot of you did, too. Again, throw away those comparisons with LeBron and Michael. Look at him as a standalone basketball player. Whether you think Jordan is better or worse, we do know that Kobe Bryant is among the best in history. And it's because he never stopped working.
Kobe Bryant is in his 14th year of playing in the NBA. We don't know how long he'll play because those miles are going to catch up to him sooner or later. If it doesn't, then even better. But let's enjoy his endless work while he's still here. If he's still working, make sure you're watching. Because there is only one Kobe Bryant: the new all-time leading scorer of the Los Angeles Lakers.
Photo Credit: 1) Joe Murphy/NBAE via Getty Images. 2 and 3) Unknown.
Follow me on Twitter. My name is @TheNoLookPass. Enjoy Kobe Bryant.
And please... join our FaceBook page.
We're always up late. How about buying us a coffee? Or an energy drink!?