I'm back with another conversation with Jeff from Project Spurs. We talked yesterday about our respective teams and updated each other on how our teams are doing. While the Lakers are obviously riding high at the moment, the Spurs aren't really doing as well. You can tell by Jeff's almost defeatist attitude. Ha ha ha. It's all love, Jeff.
Enjoy!
Rey: Well, last night wasn't exactly great for your boys, wasn't it?
Jeff: I saw this coming a mile away. They haven't proven they can beat quality teams so far this season. Plus the Suns are playing much better than I expected. But Duncan........wow! 24 points and 14 boards.
Rey: I still think Duncan can bring it. This slow start of the Spurs definitely has a lot of people talking. But I still haven't counted them out.
Jeff: Spurs do have a history of starting off slow. Look at their record in 2003. They went 19-13 before going nuts on the NBA and winning a title.
Rey: Are you concerned that the Spurs have started off 2-6 on the road?
Jeff: Very much so. A team with this much veteran leadership should be able to get it done on the road. Mental lapses, turnovers, and defensive breakdowns from a Spurs team is unacceptable to me.
Rey: Yeah, I noticed that you've been watching their turnover count the past few games.
Jeff: Do you blame me? This team had 28 turnovers in a recent game. 28!
Rey: And that was against the almighty Bobcats, right?
Jeff: See, they can get away with that becuase it's the Cats and get away with committing 19 turnovers against the Kings but doing that against the quality teams in the NBA? As we say here in NYC "fugetaboutit"
Rey: The Spurs' defense has also surprised me. How can they let Goran Dragic score 18 points? And a loss to Phoenix? Really?
Jeff: One key to look for in last night's game was the Spurs had to close out on the Suns three point shooters. Didn't do that. Frye, Dragic, and Nash were getting looks and making the shots. Plus their interior defense was nowhere to be found. Amare was absolutely demolishing us. But then again, Amare has his way against the Spurs in the past.
Rey: So what do you attribute the Spurs' slow start to? Their defense? Or Richard Jefferson?
Jeff: It was injuries and now it's chemistry. A completely overhauled team. Defense has been suspect but they are 9th in the NBA in points allowed.
Rey: Yeah, but they've usually been in the Top 5, no?
Jeff: The Spurs defense has been in decline of late. The last time we had a great defensive team was in 2007. We all know what happened that year. Cavs got their asses swept and we bitchslapped LeBron James. Don't forget that, NBA fans.
Rey: You're defiant as ever. But, hey, maybe people counting out the Spurs is a good thing. I still expect them to be in the title mix at the end.
Jeff: Your Lakers are in for a rude awakening now as they enter this part of their schedule
Rey: They are the champions, though. And people try to bag on the Lakers about "they can't win on the road" or whatever. Dude, they had the best record in the road last year.
Jeff: Four words: I hate the lakers.
Rey: Not my problem!
Jeff: Go, Kobe's finger injury.
Rey: That concerns me just a bit.
Jeff: No need for him to play in that game. Risk further injury.
Rey: Well, Kobe will play through it. That's just how he is.
Jeff: I still feel your bench isn't strong at all.
Rey: Not the best but I'm encouraged by Jordan Farmar's play. L.A. fans have pretty much banished this guy and been all over Shannon Brown's nuts but I'm not sure if they noticed that Farmar actually averages more points now than Derek Fisher.
Jeff: Brown is all dunk. And starting that website to push him to be in the dunk contest. Priorities, Brown! Seriously.
Rey: Well, Shannon IS playing well. But it's like he averages one dunk a game. He always seems to get that highlight dunk in. But I think Farmar has been playing better than Shannon as of late.
Jeff: I was surprised to see Mbenga play well
Rey: At least, he hustles. But what about your boy, Ratliff? Whenever he was in, it's like he blocks 10 shots a game.
Jeff: Do not get me started. I've been pushing for Ratliff to get more minutes. Dude may be 90 yrs old but still is a defensive presence. He even blocked a Bobcat's players face. No joke
Rey: And certain people were laughing at me about this acquisition.
Jeff: In the games he plays in, he hustles, boards, and blocks shots and.............faces. He is a tough hombre. He even picked up a Flagrant Foul 1. I like that he brings that type of toughness for the Spurs.
Rey: I do notice that the Spurs' schedule is softer coming into that January game against the Lakers.
Jeff: They got to pick up those wins. I don't care what type of win streak they might have going; they have to beat LA.
Rey: The Lakers are definitely going to get up for that game. The Spurs will figure it out. Who knows? They might go... 11-2 before that Laker game and it might mean a lot more than it does right now.
Jeff: Thats my point. SA has a bunch of at or below .500 teams. Whoop dee doo they beat the Warriors and the Pacers. Where are those quality wins vs quality teams?
Rey: I only see Dallas and Portland as quality teams before that Laker game.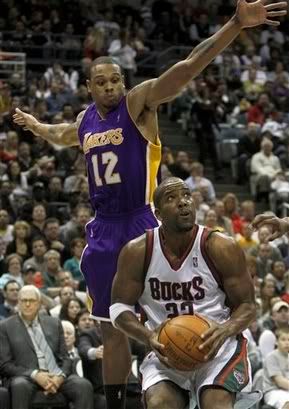 Rey: We will obviously hype this Jan. 12 game up. But if you are in front of the Spurs team right this moment, what would you tell them?
Jeff: I would look at RJ and tell him he needs to start earning his paycheck, I would tell Pop to give Blair more playing time, tell Parker to cut down on his turnovers, and tell Eva Longoria to come home with me to help the "team".
Rey: Yeah, Blair needs to play more than 14 minutes a game.
Jeff: Blair is a load for any forward. Amare tried to muscle him and well..............it didn't work. Ask Sheed and KG.
Rey: The guy's a monster. A monster with no knees.
Jeff: Surprised the Clippers fans at TNLP didnt fly Mike to the game in LA vs the Spurs.
Rey: Ugh. Awesome. Dunleavy has no idea about substitutions. Even Mike wouldn't be able to overcome Dunleavy's incompetence in that game.
Jeff: Clips stormed back at one point
Rey: Wait. Why are we talking Clippers? Aren't you going to ask me what kind of pep talk I would give to the Lakers?
Jeff: Why should I? We both know Lakers are going to beat SA.
Rey: I'm always worried about San Antonio.
Jeff: You have nothing to worry about. The Celts, Blazers, Nuggs, Jazz (3 times) and Suns beat SA. That should tell you something.
Rey: Well, it is an 82-game season.
Jeff: Wait, Odom is still with Chyna..........I mean Khloe kardashian?
Rey: As far as I know, yes. I don't really pay attention to that. I mean, why would you? Unless you think Chyna's attractive.
Jeff: Poor guy.
Rey: So Chyna. Would you? Because my friend mentioned he would.
Jeff: And with that, I am out of here.
PICTURE CREDITS: 1) Ezra Shaw/Getty Images. 2) Morry Gash/AP.
Follow me on Twitter. I am @TheNoLookPass. Also, join our FaceBook page.
You can follow Jeff on Twitter also at @sa2ny2004. While you're at it, visit him and his comrades at Project Spurs.
We're always up late. How about buying us a coffee? Or an energy drink!?