Few quick hits around the NBA Blogosphere. Check these out.
Is The NBA's Jump In Ratings Caused by Twitter: Colin O'Keefe from Past The Press Box takes a closer look on how Twitter has affected the NBA. Yup. We all know I tweet quite a bit during the games.
Scattered Thoughts: My new friend, Shyne, from Silverback Gorillas makes his own picks for the NBA All-Decade Team.
Smooth As The Other Side Of The Pillow: As much as I hate that the title reminds me of one of Stuart Scott's played-out catchphrases, The Ref from NBA Today Dot Net gives love to Ray Allen. He gives him props not only for his clutch play but for his DUNK over Andray Blatche.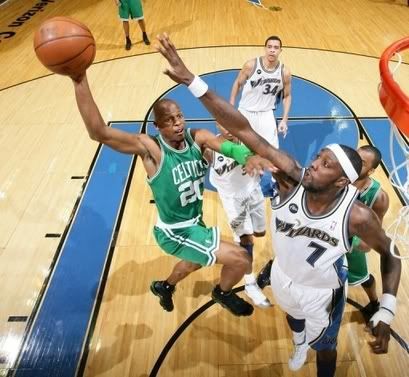 Assembling Bruise Brothers 2.0: Michael De Leon from Project Spurs thinks that the current crop of Spurs big men can be the next version of the Bruise Brothers.
Talking About Practice: Episode 5: Jared Wade from Both Teams Played Hard talks to Lang Whitaker from SLAM in his latest podcast. He describes the show as 1/3 ATL, 1/3 SLAM, and 1/3 everything else.
The NBA's Best Fans: This report on Forbes says that the Lakers are the best fans in the NBA. Yeah, I root for the Lakers but I find this one hard to believe. Ha ha ha.
That's it for the love! Happy Friday night!
Follow me on Twitter. My name is @TheNoLookPass. Also, join our FaceBook page.