The Lakers are on a 10-game winning streak. The funny thing is that they never won more than seven in a row last season when they won 65 games. But, oh, the pros and cons of a long winning streak like this.
Everyone is saying how indestructible they look. Yeah, I get that they look like that but I'm cautiously optimistic. This is a marathon, not a sprint. This winning streak is nice but it hardly guarantees a title. But a 10-game winning streak is hardly negative. I'm just saying not to jump to conclusions. They may be the BEST now, yes… but will they be the best in June?
First off, we're in December. We're still at a season in its infancy. Remember when Boston won 19 straight last year? Remember when they got off to a 27-2 start? Well, Kevin Garnett got hurt midway through the season. We all knew the Lakers won the title last season. Cleveland even won eight straight in the Playoffs but it was because Detroit basically gave up and Atlanta was hardly competition to the Cavs. What I'm saying is that, yes, winning streaks are nice but let's all hope that they stay healthy and are still playing like that in the playoffs. People have also brought up the schedule of the Lakers (hello, Lost Jello and Miss PYT).
1. Detroit, 106-93: Pistons are somewhat on a rebuilding phase.
2. Chicago, 108-93: Bulls have been a disappointment this year.
3. Oklahoma City, 101-85: OK City is an improved team and even played them close earlier this year. But the Lakers should beat them.
4. New York, 100-90: It's the Knicks.
5. At Golden State, 130-97: It's the Warriors.
6. New Jersey, 106-87: The Nets were winless at the time.
7. New Orleans, 110-99: The Hornets are horrible on the road.
8. Miami, 108-107: The Heat are a surprisingly decent team and if it weren't for Kobe's fling, there would be no 10-game win streak.
9. Phoenix, 108-88: Phoenix is a good team but the Lakers are a much bigger team than the Suns.
10. Utah, 101-77: Another good team… but this game proved how far and away Utah is compared to the Lakers.
I'll say that their last three games have been their toughest.
Okay, I'll stop playing bad cop. To the Lakers' defense, what were they supposed to do when they were handed a schedule like this? Roll over and lose? Of course, you play to win the games. In fact, if the Lakers lost to the… Knicks or something, I'd hear the Laker, uh, faithful (ha ha) complain that they should be on a 10-game winning streak. They've had a cake schedule, yes, but every team has similar schedules. It just so happens that the Lakers got their easy games early. They're going to go on a 5-game road trip very soon… and later on, they're going to go on an 8-game trek. So the tough games for L.A. will come. Of course, there was that road trip that the Lakers swept (which INCLUDED Cleveland and Boston) last year. That was definitely a highlight of last season's title run.
Also… look at how the Lakers have been winning: defense. Really?! The Lakers have held nine of their last ten opponents under 100. It's helped by the return of Pau Gasol. Again, it helps to have two 7-footers clogging up the lane. It's also unbelievable to me that they are holding their opponents to 42 percent shooting (BEST in the league). And it's obvious that the perimeter defense is much, much better (opponents not even shooting 30 percent behind the arc, ALSO BEST in the league!). People are realizing how GREAT of a fit Ron Artest is (to those that don't think he is, I don't know if you actually watch the Lakers). Ron said himself that he takes pride in being a defensive player (and defensive captain!). Kobe Bryant isn't roaming around as much anymore and is playing outstanding one-on-one D. It's kind of like how Scottie Pippen was the defensive captain in the Bulls dynasty. With Artest there, the defensive rotations have improved immensely. It's like they hardly miss an assignment.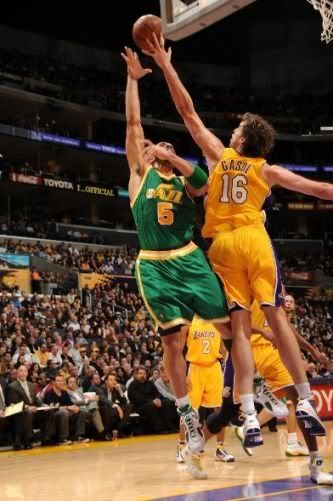 People are even saying that this team is even more of a defensive team than an offensive juggernaut. The culture has clearly changed in L.A. Hell, even Jordan Farmar (not exactly known for stopping anybody) is playing some defense (witness the Utah game). So much for softness, right? Ron was definitely the cure for the Lakers' defensive ailments.
And in other positives: Andrew Bynum looks like a legit All-Star, Derek Fisher is starting to make his shots again, and Lamar Odom is still doing the little things. I'm not sure if anyone's noticed but the aforementioned Farmar is having a rebirth of sorts. In the last six games, he's averaging 10.8 PPG off the bench while shooting 55.6 percent from the field. While he's always played with confidence, he's learning how to settle himself down a bit more and is playing more efficiently. Maybe he can STILL get that starting job for the Lakers in the near future.
So, hopefully, the Lakers can keep it going all the way to June. Again, I'm cautious. Boston has won eight straight and Orlando has won six straight. No one's talking about them just yet.
Oh, well. In the meantime, let's enjoy this winning streak the Lakers are on. It's beautiful basketball on both ends of the court.
Picture Credits: 1) Noah Graham. 2) Andrew D. Bernstein. Both from NBAE via Getty Images.
Follow me on Twitter. My name is @TheNoLookPass. Not only do I tweet about basketball but I'll do the occasional Saved By The Bell talk. Also, join our FaceBook page.