David Stern likes to mention all the time that the NBA is the home to the best athletes in the world.  Why shouldn't he?  The level of athleticism and energy required to play 30+ minutes of basketball over the course of a season is astounding, especially when considering how much physical contact can be made with the tough of a basketball.  The number of athletes who have played professionally in other sports is also staggering, which lead the folks at TNLP to think "what if some NBA players grew up playing another sport instead?"
Obviously, there are some athletes that have histories in multiple sports.  Danny Ainge had a stint with the Toronto Blue Jays before settling on the NBA, and Charlie Ward was a Heisman Trophy winner in college before spending many seasons with the New York Knicks.  The goal of this article is not to highlight multi-sport athletes. Instead, here are 10 guys who we think could be great at something else.
Kevin Garnett
Sport: Swimming
He's bald.  He's lean.  He could be a swimming machine.  With his long legs and his tremendous wingspan, why couldn't Kevin Garnett beat Michael Phelps at his own game? Shaquille O'Neal challenged Michael Phelps earlier this year on his show, Shaq Vs., and it came down to a photo finish.  Imagine what KG could do with actual training, considering he's got more of a swimmer's body? Let's reverse these roles:
Jason Kidd
Sport: Association Football
Jason Kidd will go down in history as one of the best Point Guards in the history of the NBA, and his awareness of where the ball is at all time and where players are on the court are a perfect match for Association Football, which many of you may know better as Soccer.  His skill set is a perfect match for the role of a midfielder.  Who knows?  If J-Kidd had gone down this path, we might be seeing his name on an Arsenal jersey right now.
Ron Artest
Sport: Beer Pong
(Photo from The Flagrancy)
Recently, Ron Artest announced that he used to drink Hennessy during games when he was with the Chicago Bulls.  Despite this, he still scored about 12 points a game with a couple steals.  If he can shoot a basket against an NBA defense while under the influence of hard liquor, how hard could it be for him to toss a ping pong ball into a plastic cup while tossing back a few sips of brew?  Don't laugh now, but with the right partner, we could be looking at the next champion of the World Series of Beer Pong.
JJ Redick
Sport: NASCAR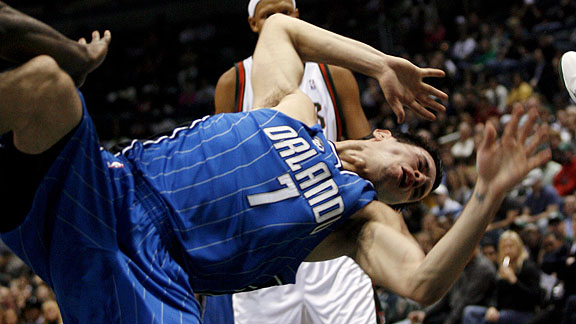 Any one reading this who has watched any second of NBA TV knows that they show ads for the Better Basketball series of instructional videos, which prominently claim that JJ Redick is one of the best shooters in the game.  This doesn't come from dumb luck, but from practice and precision.  And speaking of precision, why couldn't the former-Duke standout learn the nuances of racing around a donut?  Don't worry, JJ, if you make it, we'll overlook that DUI.
Yi Jianlian
Sport: Poker
(Not actually Yi, use your imagination)
It doesn't take Macau's claim to be the most profitable gambling destination in the world to realize that Chinese people kind of have a thing for gambling.  With Yi just around the corner from Atlantic City, it's only a matter of time he uses that stoic expression of his as a poker face.  By then, he'll be doubling his paychecks among the likes of Phil Ivey and his own countryman, Johnny Chan.  Plus, with all the time he's spent over the past three years on Injured Reserve, it's not like he needs to find time to hone his Hold 'Em game.
Anthony Morrow
Sport: Archery
(Photo from Golden State of Mind)
Don Nelson publicly stated a few weeks ago that Anthony Morrow was the best shooter he's ever coached.  That's a boastful claim for a guy who has coached greats such as Mitch Richmond and Chris Mullin. Still, the point is this: when Morrow has his eyes aimed at the basket, chances are he's going to make the shot.  Now, if he replaces that roundball with a bow and arrow? We might be onto something.
Richard Hamilton
Sport: Distance Running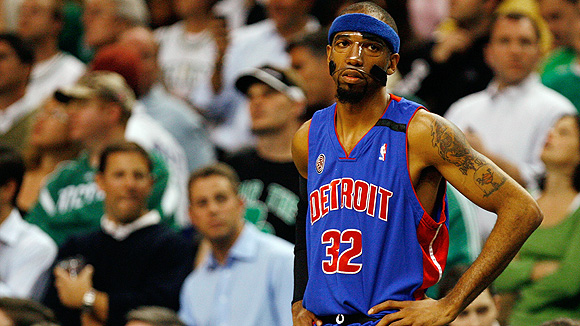 When Richard Hamilton gets on the basketball court, he is constantly running, moving in transition, moving through cuts, and generally tiring out the other teams defenders for 48 minutes as he looks for an open shot.  With the ability to run like that and sustain it over the course of an entire NBA game, Rip easily has the stamina in him to be a distance runner.  This isn't even mentioning his amazing speed as he runs all over the court.  If I were Kenyan, I'd be worried the moment he signs up for a marathon.
Craig Smith
Sport: Rugby
They call him the Rhino for a reason:  Craig Smith is not only built like a truck, but he'll run into his defenders like one, too.  His strong frame and his great mobility on the court would make him just as much the animal on a Rugby field.  His physicality would be a great asset to the sport, especially in a forward role.  Matt Damon might be playing a top Rugby player in the upcoming Invictus, but Craig Smith could be the real deal.
Earl Boykins
Sport: Horse Racing
The smallest active player in the NBA could make a big impact as a jockey.  Yes, we at TNLP realize this claim is a bit ridiculous, but we dare you to try to come up with any other player currently in the league that could race a horse.  Until then, we're sticking to the claim that Boykins has the potential to make records at Churchill Downs.  That is, until Muggsy Bogues decides to take a stab at horse racing himself.
Dwight Howard
Sport: American Gladiators
Who says American Gladiators is not a sport?  And honestly, if you were a contestant, who would you rather see on the opposing end of Atlasphere or Powerball: D12 or Militia?  The massive shoulders and insane athleticism would be taken to full advantage any time Superman wants to give NBC a call.  At the very least, it would be a much better turn from an NBA player than Robert Horry's run on ABC's "The Superstars."
Got an NBA player you think would be great at another sport? Drop us a comment!
Follow Brandon on Twitter: @Dingyu
Follow TNLP on Twitter: @Thenolookpass
Also, join our FaceBook page!