Well, Trevor Ariza got his ring. I personally miss Trevor in a Laker uniform but life goes on.
And it went. Seemed like the Rockets were inspired by their new teammate's new jewelry. How does an undersized team like the Rockets keep giving the champions trouble? On paper, the Lakers look like a nightmare match-up for Houston. The Rockets beat the Lakers, 101-91.
Ariza actually didn't play well offensively (2 for 12 and 9 points). But he did the other things. Eight rebounds. Four steals. Two blocks. And he played one hell of a defensive game against Kobe Bryant (who does have a hurt groin but he's not going to make excuses out of that). The new Laker, Ron Artest, played a great game. He finished with 22 points and 6 rebounds.
So what the hell went wrong?
It's not like the Rockets shot well (41 percent) but they absolutely killed the Lakers on the boards (60-38). How is that possible? Simple. I hate using this cliche but… the Rockets wanted it more. I mentioned how much a size advantage the Lakers have but the Rockets were flying all over the place and boxing out (something the Lakers didn't seem to do). Some players like David Andersen (19 points) and Chase Budinger (11 points) were surprising L.A. but the obvious big key was Aaron Brooks. Brooks went off for a career-high 33 points and it seems like no one from the Laker backcourt can stop him.
As for the Lakers? This happened when they got plastered by Denver. The Lakers are absolutely making terrible decisions on the post. I raved about Kobe's efficiency and improved game on the post but after he said that "he eats first", he's now forcing his way into it even when he's double-teamed. Like Pau Gasol last year in the Denver series, the Lakers take forever on the post and it almost always results in a turnover. It's fundamental. Post. Doesn't work? Pass out and repost if you want. Andrew Bynum had that problem, too.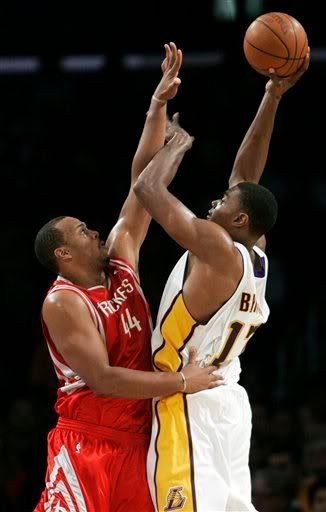 Speaking of Bynum… I can't believe I'm saying this but he needs to get more than twelve shots against a team like the Rockets. They have to double him every time because he's so big. And if they give him single coverage, the opponent is toast. It's not a hard game.
L.A. looks lost in their offensive sets… and it just carries over to the defensive end. They cannot lay back when leading big and they cannot mope when things aren't going their way on the offense. So thanks for the B-Day present, Lakers!
Great game by the Rockets. Rick Adelman is never appreciated as a coach but he always seems to find a way to win. As for the Lakers? They'll figure it out. This may be a wake-up call.
Follow me on Twitter. I am @TheNoLookPass. Also, join our FaceBook page!