Oh, boy. We're going to talk about it this every time they meet this year.
The Lakers beat the Houston Rockets in one scrappy affair that went to overtime, 103-102. The Rockets continue to give the Lakers problems. The boys from Houston have the height disadvantage but make it up with all-out hustle and toughness. The Lakers are definitely much more talented than the Rockets (or pretty much every team for that matter). But the guys that were under the spotlight were the two players that basically traded teams over the offseason: Ron Artest and Trevor Ariza.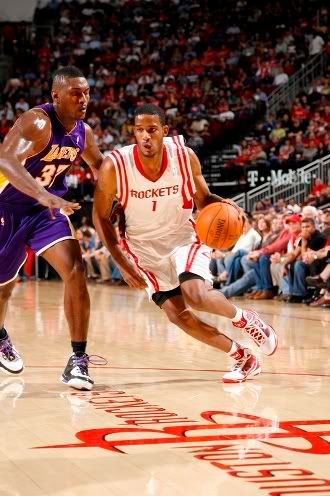 At the end of regulation, it was as if it was scripted. Lakers took the lead, 92-89, after Ron made a three-pointer. I love how he signaled timeout to the Houston crowd after the made shot. Then after a scrum, Trevor countered with his own three-pointer and raised three fingers towards the Laker bench. It was quite a delight to see that exchange between the two players that were basically traded for each other.
Then in the end of the game, with the Rockets down by one, Trevor got stripped by Derek Fisher. Game. Set. Match. Lakers.
I was hard on Trevor. I thought he might fall into obscurity... and I thought that he wasn't capable of being the #1 guy on a team. Ron was used to being the #2 or even #1 option. And I knew that Ron had a better all-around game than Trevor.
So it surprised me when Ariza got off to a fast start (21.3 PPG on his first four games) while Ron struggled to fit in the first couple of games. But keep in mind also that they switched roles. Trevor has become the #1 (or #1A) option in this Rocket team while the Tru Warier became a third, fourth, or even fifth option for this Laker team.
Artest wasn't going to play any different. His forte is defense. I thought that anything more than ten or twelve points from Ron would be gravy. In the meantime, Ariza turned into a spot-up shooter during his days in Los Angeles. He was also a good one-on-one defender and has great anticipation. I wondered how the Rockets were going to get him shots in Houston.
Well, Ariza's been getting his shots. His pull-up jumper has improved and he is more confident than ever from behind the arc. His ballhandling's not the greatest so he still looks a bit awkward slashing to the hole. It surprised me when his first shot was a pull-up midrange jumper. And then he did a no-look pass on the next play. He's still not a bonafide playmaker but he seemed to have really worked on his game. And the Lakers have been known to play porous perimeter defense. Problem was that his 3-pointers weren't going in (finished 2 out of 7). There were, at times, where Ariza was wild with the ball and was making uncharacteristic decisions with it. He shot poorly (5/21) against the Lakers as he was forced into uncomfortable situations and was missing some open looks.
Ron was making it difficult for the Rockets. He took on anybody whether it was Ariza (they both drew a double technical foul) or Luis Scola. His one-on-one defense is still one of the best in the league and bodying up against Artest is like trying to smash through a brick wall. In the triangle offense, #37 gets open looks from behind the arc. He made them pay when Kobe got double-teamed. And we all know how Artest is when he drives; he's just a freight train.
Both guys finished with 15 points. They may be in different roles now but it's clear that neither team's fan base is going to complain of what they got. The individual match-up is pretty much a push... but I still say Artest > Ariza only because the Lakers won.
By the way, Kobe Bryant really stole the show with 41 points...
Follow my tweets on that Twitter thingie. The name is @TheNoLookPass.
We're always up late. How about buying us a coffee? Or an energy drink!?