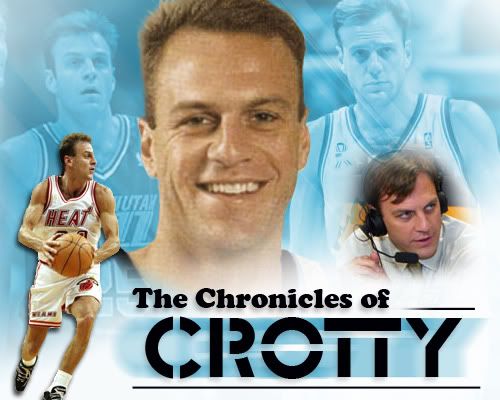 Ep #30: Real Emotion
[ 1:03:31 ]
Play Now
|
Play in Popup
|
Download
---
Hosted by...
THE CHRONICLES OF CROTTY KREW





PICTURED L to R
David Diep (@illastrate): (PF) "Seeing you in action is a joke!"
Jimmy Castro (@WinInTheEnd): (SF) "I am the strongest woman in the world!"
Nick Perkins: (C) "Attack me if you dare! I will crush you!"
Rey Moralde (@TheNoLookPass): (PG) "Handsome fighters never lose battles!"
Peter Kim (@YungBolo): (SG) "Go home and be a family man!"
THE VISITORS
We talk to Michael De Leon and Jeff Garcia from the very popular Project Spurs blog. Tracy Murray couldn't make it because he was at the Laker game in Ontario, California.
BREAK IT DOWN
A. We talk San Antonio Spurs with Mike and Jeff.
B. How will DeJuan Blair fare this year?
C. Will the Spurs win 70 this year, too?!?!
D. Besides the Lakers, who can we watch out for in the West?
E. We went straight to the L.A. segment (Lakers and Clippers status).
F. After Nick mentioned D.J. Mbenga getting teabagged, all hell breaks loose. Again.
G. We also talk about our favorite European player. His name is Gregor Fu...
And since we brought up Jimmy's misadventures in the very first Blogs With Balls, here's his drinkoff with Mike!
Follow Mike on Twitter at @mdeleon. You can also follow Jeff at @sa2ny2004.
TEASERS
JEFF: "Thirty's the new twenty!"
REY: "That's right! Thirty's the new... I'll shut up now..."
JIMMY: "I'll be there in four months."
MIKE: "Hey, Jimmy. Is 50 the new 30 for you, dude?"
DAVE: "Come on, Mike, you need to stop watching those Silver Stars highlights!"
PETER: "How come we've gone this far without talking about Ian Mahinmi?"
MIKE: "'Cause he fouled out already."
NICK: "Nothing pumps up the crowd like underage child stars."
PETER, DAVE, and REY: "OOOOOOH, MODED."
CREDITS
BANNER
Greg Sorvig
MUSIC
Free Your Mind by En Vogue (instrumental)
Real Emotion by Sweetbox (from Final Fantasy X-2)
Mortal Kombat by The Immortals
Party In The U.S.A. by Miley Cyrus
Fantasy by Mariah Carey
PROMOS
Ron Artest from the Lakers
Steve Perrin from the Clips Nation
Elie Seckbach of ESNews
Jeff from Project Spurs
Tracy Murray, former Raptor and Wizard
Jared Dudley from the Phoenix Suns
Chris Manning from the Lakers Nation
C.J. Miles from the Utah Jazz
Please subscribe to us on iTunes. Let us know what you think about it! Thanks for pushing play!
We're always up late. How about buying us a coffee? Or an energy drink!?