Well, it's not a secret. I've been trying to get Ron Artest to go on our podcast for a couple of months now. And he's said yes to me twice already. But it was admittedly frustrating to get a hold of him because he was basically everywhere. I wouldn't be going after him like this if he didn't say yes to me. Ha ha ha.
But it's hard to dislike a guy when he's going around giving back to the fans here in Los Angeles. He was using Twitter to communicate with his fans and hold contests. He visited a fan and sang karaoke to a Celine Dion song (yes, my fellow Filipinos, the Magic Mic). He went to the L.A. Sparks games with fans. And a few days ago, he held a contest. First 50 people that E-Mailed him would get to go bowling with him in downtown L.A.
It was my chance to get back in touch with him so I E-Mailed him. I was one of the fifty. I can't say I cared much about the bowling part (last time I went bowling was… uhhh… Wii Bowling); I just wanted to see Ron in action AND to make one final pitch to him about having him on our show.
Around 12:30, Ron arrives (along with some reps from ESPN, Sports Illustrated, Orange County Register, and maybe TMZ).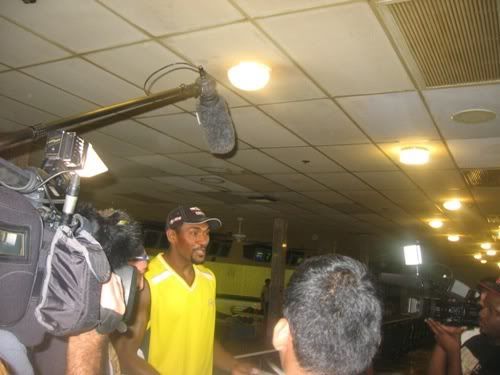 When I was able to talk to him, he actually remembered TNLP. He handed our swanky new business card to his publicist right after. Anyway, they picked teams in bowling and Ron said he was going to give away autographed basketballs to the highest scorers. Since there was just way too much going on and I was a horrible bowler, anyway (I'd be happy to get 100… no, 90), I opted not to bowl and watched everybody in action instead. Our main man, Elie Seckbach (one of the hardest workers I know), was also there to get footage for ESNews.
For the most part, he was mingling with all the fans. He was taking pictures, giving a few autographs here and there, socializing with the people… I mean, it was a fan's dream. Ron was so down-to-earth and it's a side that most people don't seem to see. I was all thinking, "How can the media villify this guy?" Artest was really having fun. As Arash Markazi from Sports Illustrated mentioned, Ron is doing this on his own; it's not like he was told to do this for charity.
In the middle of all this, he bought pizza and soda for everybody. At one point, he left to go to the other side of the bowling alley where he surprised the kids with some pizza. And he also took his time to take pictures with the children.
The cameras were rolling, mine included. He went on a diatribe about the East All-Stars owing him money in a halfcourt shot contest in 2004. Ron ended the little "rant" with a bite of his pizza, something he claims he doesn't eat.
As for his bowling skill? Here's a video of that!
I say it's "just like basketball"… but yet I'm a horrible bowler. Ha ha ha.
Ron went on in his "first annual bowling press conference" after the event was over. He gave away autographed basketballs, shoes, AND an autographed painting.
After that, he had to go leave to attend the wedding of Lamar Odom and Khloe Kardshian. It was too bad for all the fans (including me) that this event had to end. It can hardly get any better than this. Ron Artest, the supposed ticking time bomb, took his time to have fun with the fans. He mingled with them, ate with them, bowled with them… it was like he was just one of us. He treated everybody in that bowling alley well.
Here's a shot of Seckbach, me, Ron, and Markazi.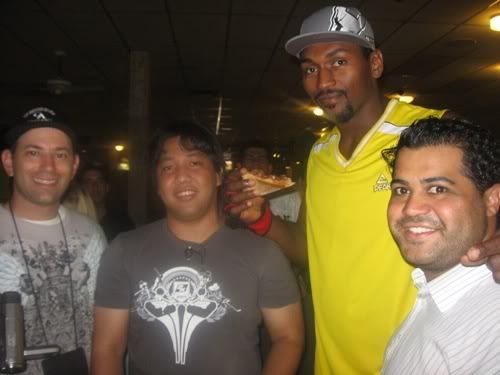 By the way, I thought Ron ate three slices of pizza. Phil Jackson shouldn't worry, though, because we all know Ron is a workout fiend. Ha ha.
As for Ron's bowling score?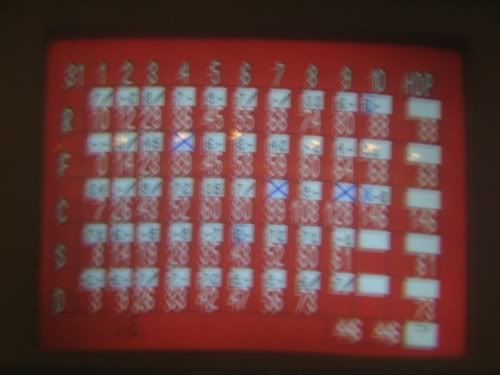 88. An unbelievable individual score for basketball… but not for bowling.
But it doesn't matter what his bowling score is. A lot of people make Ron Artest out to be one crazy individual. But, hey, I'm a little crazy, too. And, yes, he's made mistakes in the past… but haven't we all? So what? Bottom line: I think Ron Artest is a great human being. And I wish more people would see this side of him.
CHECK OUT ELIE SECKBACH'S VIDEO OF THE EVENT HERE.
Follow me on Twitter. I am @TheNoLookPass. While you're at it, follow Ron Artest on one of his Twitter accounts: @96TruWarierQB, @ThugRaider37, and @basketball_ron. Yup. He has three accounts. What do you expect out of Ron Artest?