At the end of the 2006 – 2007 NBA season, it looked like the Golden State Warriors had finally put it all together. Stephen Jackson and Al Harrington helped the team to gel. The team pushed into the playoff race when Don Nelson himself announced they were out of the playoff race. And once in the playoffs, a huge upset of the defending Western champion Dallas Mavericks left the fans with plenty of optimism and a team they could truly believe in. Despite not making the playoffs the next year, for the first time in a decade, morale in Dub-town was at an all-time high.
Then it happened.
Baron Davis, the emotional captain of the Bay Area's beloved Warriors, bolted for his hometown of Los Angeles by signing with the Clippers. What ensued was a combination of questionable ownership decisions and player issues that quickly threw the team back into futility. Since that date, Warrior fans have really had little to look forward to, whether it be player trust…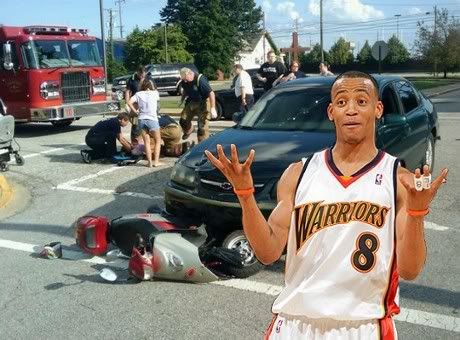 Management struggle…
Or player frustration…
It's been a tough road to travel for Warriors fans. Heck, even the "We Believe Playoff" guy no longer believes in the Warriors. There is simply not enough good going around for Bay Area basketball. Well, before any Warrior fans abandon the team and put on a Brad Miller Drew Gooden Kevin Martin Kings jersey, there are two simple rules you can follow:
Rule 1: lower your expectations. The team has had two winning seasons and one trip to the playoffs in the past decade and a half. It's tough to be a fan when the team isn't winning, sure, but realistically, the team isn't going to play Cinderella and knock out top seeded teams every year.
I'll put it this way: have you ever went to a party with a buddy and that buddy somehow found the hottest girl at the party completely drunk out of her mind and managed to reach third base for the first time in the better part of a half decade, only to find him trying to go to every party he can get to under the pretense that the same thing will happen again? Please don't be his sports-fan equivalent.
This isn't American Pie. This isn't even one of those lame direct-to-video American Pie spin-offs. This is the NBA, and while that one playoff run was sweet and the '06 – '07 Mavericks did look fully stacked but with not a lot up top, that was the past. Even if the team isn't a contender now, take pride if they can improve from last season.
Rule 2: keep your eyes on Stephen Curry. There is a reason that the Knicks and Mike D'Antoni wanted the son of former NBA sharpshooter Dell Curry, and knowing how Don Nelson also employs a run-and-gun offense, he's going to be a great fit on the team. Why else should you be looking out for Stephen Curry? Well, for one, Dime mag lists him as a Top 5 contender for Rookie of the Year. According to an interview with HoopsHype, he also feels like he could be this year's top rook.
Stephen Curry can flat out play. Sorry, Yannick, and I hate to break it to you, Pat, but if there was an award for "best recent NBA player whose father was a star athlete," Dell's kid would be the unanimous winner. He's so good that Don Nelson is actually willing to give him substantial minutes, despite the fact that Nellie is notorious for not playing his rookies. Steph has also been practicing with the likes of Jason Richardson and Chris Paul, and they've been heaping praise on the kid through their Twitter accounts. And if he is able to practice day-in and day-out and actually keep up with the likes of these players? That's an absolute reason for optimism going into this next NBA season.
(On a tangent here: has anyone noticed how much the NBA has truly embraced players using twitter. At this point, they should just make it mandatory for all players in the union to use it. Why not just stop putting player's names on the backs of jerseys and just put their Twitter names? I'm sure tons of people would love to buy a @96TruwarierQB Lakers jersey.)
So yes, the Warriors may not make the playoffs in 2010. And yes, the team still has issues with management and ownership. If the team can win more games than last season, though, that's a definite positive. If all else fails? Stephen Curry should be that last piece of hope that was left behind when Pandora opened the box. Take it from a Clipper fan: when our chips were down last season, we had a reason to look up with Eric Gordon. Stephen Curry can easily be that same player for you.
Brandon Tomyoy is our Northern California correspondent and part-time writer for TNLP. Follow him on Twitter at dingyu. He also likes pie.