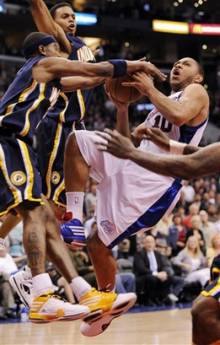 We'll have a video blog up concerning this Clipper game on Saturday night… and I'm sure we'll talk about it in our upcoming podcast but…
Ya know, Peter and I were having a great time. The Clippers built a hefty lead against the Indiana Pacers… and Eric Gordon looked like he was headed for a career night. The Pacers cut into the lead and at the end of 3, it was 89-84, Clippers. Eric Gordon had 34 and I was confident that the Clippers would pull out the win. Even if it IS the Los Angeles Clippers, the purgatory for NBA players.
And then the Clippers were just that… the Clippers. Their 105-101 lead disappeared with about two minutes left. The Jarrett Jack 3-point play (where he also traveled) gave the Pacers a 106-105 lead. With 5.2 ticks left, I was STILL confident that the Clippers would pull this off. I have seen many, many basketball games in my lifetime so I never assume it's over until it says all zeroes on the clock.
Eric Gordon drove in and four Pacers collapsed. I waited for a whistle as he was clearly mugged at the end of the play. Blocked shot. No whistle. Pacers steal one.
And Peter and I just stood there in shock for the next ten minutes. I was actually shaking.
I have been watching the Clippers since '91-'92 (I actually grew up a Showtime fan before I started cheering on these Clippers as well). Normally, I'm not that excitable about "my teams" winning (except if it's for the San Francisco 49ers but that's another story). Like if the Lakers won the title, then cool. If the Spurs won the title, cool… and I'm glad for them. If the Celtics won the title… then awesome. I'm not going to punch anyone in the face if one team wins the title.
But this loss just stung. I haven't felt that way over a team's loss ever since I was a kid. It was like the girl that you've been chasing for months saying no to you. Why did this loss sting so much?!
Yeah, I know it's the Clippers. I know they've been terrible forever. But they did lead pretty much throughout the entire game.
Maybe it was because I believed they would win. No matter what.
People really don't know it… but if the Clippers are healthy, this team is pretty damn talented. Marcus Camby, Al Thornton, Eric Gordon, Baron Davis, and Zach Randolph. You can't tell me these guys are a horrible starting five. Right?
I really didn't know what to think when the Pacers stole victory. Why didn't Eric Gordon get more touches in the fourth quarter (only one point)? Why couldn't they defend the three better? Why don't the refs give the Clippers some calls?!
But, man, I'm just baffled by this whole thing. I want the Clippers to really commit to winning. Donald Sterling, hand out the cash. Winning will get you more money. Mike Dunleavy, I think you're better off just being a general manager. Hire a coach that would actually know the strengths and weaknesses of his players. And hire a coach that would motivate the troops.
I just know this: this game gave the Clippers my unwavering loyalty. Of course, I'll still be cheering on the Lakers… and I'll be happy if they have a parade down Figueroa St. But if the Clippers ever get to that upper echelon of teams or the unthinkable (win a title?), I can look back at this game and go, "They've come a long way."