On Feb. 23, 2009, we (the Chronicles of Crotty Krew! HA HA!) attended the Clippers game at Staples Center. They faced the Golden State Warriors in a high-scoring affair. The Clippers ended up winning, 118-105, in what Dave described as "the best Clipper game he ever attended". Since this was only the fifth game I attended, I'll agree with him. Peter (who won a trip to Boston!) and Chris (Dave's friend) were also with us.
There aren't very many highlights of the game itself. I tried, believe me… but this was more about the experience of BEING AT the game. To those that have never seen a game live (let alone a CLIPPER game live), this is how it's like.
And, of course, after the game (even though I already showed this pic in the previous entry), we all met Ronny Turiaf. As we mentioned in our podcast (you guys DID listen, right?), he was in a bad mood after the game. But he was classy enough to let us take a picture of him. So props to Turiaf for that.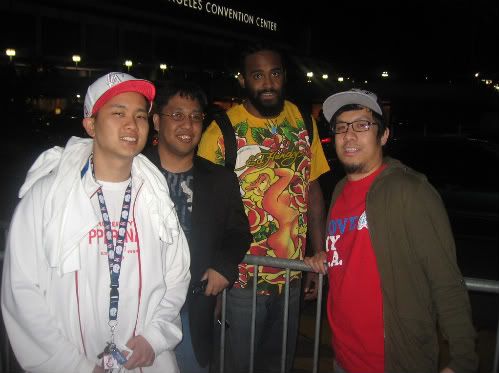 We'll do better the next time but this is all we could muster. Enjoy!