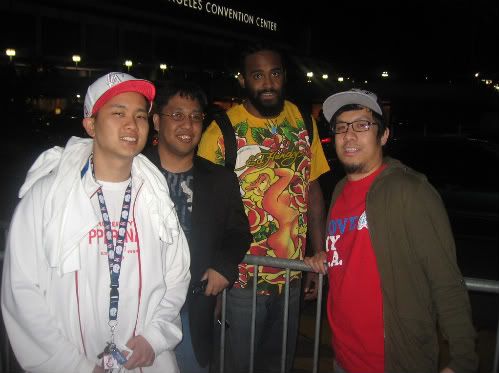 Who are those dudes with Ronny Turiaf? (L to R: Peter, me, Ronny Turiaf, David)
I have been writing this blog, The No-Look Pass, for about less than three months. The opinion entries are all mine but regular features like B-Ball Video Games Are Cool and We Like Obscure NBA Players are mostly suggested by my buddies. And then I do the dirty work.
So, yeah, I'm the only one that had been writing for The No-Look Pass… and all others are contributors. Until now.
Three weeks ago, we started a podcast called Chronicles of Crotty. To those that have listened, we have a four-or-five-man crew for the show. I mentioned that the others have their own blogs. Well, now, they decided that for promotion's sake that they will also start writing for this blog.
So let's welcome Peter Kim (from HE CAME FROM), David Diep (from Terry Dehere For The Win), and Jimmy Castro (currently residing in Costa Rica). With these additions, this blog will be more diversified… but yet may be a little more… Clipper-centric.
Peter and Dave are huge L.A. Clipper fans. Jimmy is a huge Laker fan. You'll get to know their styles as the weeks go by but you'll definitely hear a lot more about them during our podcasts that are put up every Friday morning.
As for our other co-host, Nick Perkins? He's just not an internet guy and he prefers to stay more… anonymous. But you'll hear him on the podcast, anyway.
So big welcome to Peter, Dave, and Jimmy. Maybe they can actually help me play terrible basketball video games.
Probably not.