Who watched that Lakers/Celtics game? Definitely felt like a playoff game. I think L.A. truly believes they can win it all, even without Andrew Bynum. But the Celtics are still the champs. Here's hoping for a rematch.
Ya know, we were supposed to drop a podcast today. But when I checked the second half of it, my voice was in and out of the recording. Then I saw that the mic wasn't totally hooked up to my comp. Ugh. So to those who are expecting a podcast today, I apologize. We will attempt it again sometime soon. It's really too bad because we had a lot of delicious topics. Lakers Vs Celtics. All-Star weekend. Some dude that went to Philadelphia had season-ending surgery. Yup. Once again, I'm sorry. I will jump into a bedful of knives now.
I'm actually bummed about it so I'm mustering all my strength to do this last blog entry for the week. LET'S DO THIS.
Anyway, I want to give props to Brian Spaeth from Brian's Thoughts About Airplanes (he also used to do yaysports.com) for this lovely, lovely poem about The No-Look Pass. Thanks, dawg!
All right. Let me dish.
FEATURED BLOG OF THE WEEK: The Basketball Jones
J.E. Skeets of Ball Don't Lie and Tas Melas do this video podcast five days a week. They go over the previous night's happenings of the L. It's a great basketball alternative to all them sports shows going on ESPN and Fox Sports or whatever. They'll answer E-Mails on the air and even make some bets (Skeets lost last week and had to do karaoke to a song of Tas' choice). Anyway, nothing else needs to be said… JUST WATCH IT.
Unfortunately, they root for the Toronto Raptors.
All right. Link love.
Feces Brand: Peter of HE CAME FROM finds people (or things) that look like NBA players. In this entry, he had three. Including his favorite player that will not be mentioned. Ha ha ha.
The Quest For G: Ethan from NESW Sports put up this awesome video of this Gatorade ad that's based upon Monty Python. I loved all the athletes involved in this.
Ledge Partay '09: Ticktock6 from Hornets Hype is on the ledge because of the recent setbacks of the Hornets. But she also asks other teams to join them on this LEDGE PARTY. Who's invited?
Trade That Should Happen: Clippers-Warriors-Heat Swap: Cory from TalkHoops discusses the trade possibilities between these three teams. How about Shawn Marion in a Clippers uni?
Which Was Better: LBJ's or Kobe's MSG Performance?: Mookie from A Stern Warning asks the very question. This is a great argument from both sides. Fantasy owners will take LeBron's, though.
Introducing BDL's 2-on-2 All-Star Tourney: Skeets posted this from Ball Don't Lie. I would rather watch this than H-O-R-S-E. Honestly.
The Mount Rushmore of Basketbawful: The guys from Basketbawful decided to photoshop this. Check out their blog to see what they came up with!
Conspiracy Theory – Trail Blazers to Seattle?: Sheed from Bust A Bucket lays this out… will Portland Trail Blazer fans still love the Blazers if they decided to pack and move to Seattle? Is this move even a possibility??
Yao Scoring on Nocioni is "Like Clubbing Baby Seals," says Clyde the Glide Metaphorically: Thanks to Wade from Both Teams Played Hard for this little gem. Possibly one of the best lines I heard this season. Ha ha ha ha.
Sports Illustrated 2009 Swimsuit Calendar Promotion Turns Brooklyn Decker Into Denise Milani?: Thanks, Busted Coverage! Did they do some bad photoshop on Andy Roddick's chick?
Another reminder…
Don't forget that SLAM Magazine and The NBA Breakdown have teamed up for the SLAM/NBA Breakdown Trivia Challenge. Click behind this link for the question. Catch the NBA Breakdown show on Sunday, Feb. 8th at 9 P.M. Eastern/6 P.M. Pacific time and they'll be waiting for the FIRST CALLER WITH THE CORRECT ANSWER. And with any luck, you'll win a SLAM Prize Pack. Good luck!
Again, sorry that this podcast that was most anticipated (HA HA) turned out for naught. But, hey, there's always next week! I think. Just stay tuned, a'ight? I'll make it up to you guys. How's this?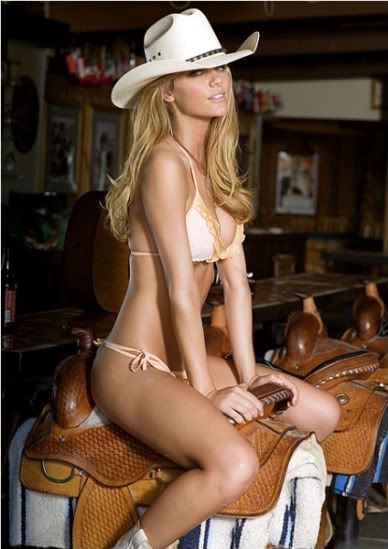 BROOKLYN! BROOKLYN!
Have a great weekend, guys!