Here's my Christmas gift to some of you guys!
Well, it's hard to gauge how "obscure" he really is.
My friend, Leo, had this to say.
LEO: "Yeah, so I'm from Baldwin Park (California). And now… I think we're known for two things. In-N-Out Burger first came from Baldwin Park. And Keith Closs went to high school here!"
Us Southern Californians that follow the NBA (even casual followers) know who Keith Closs is.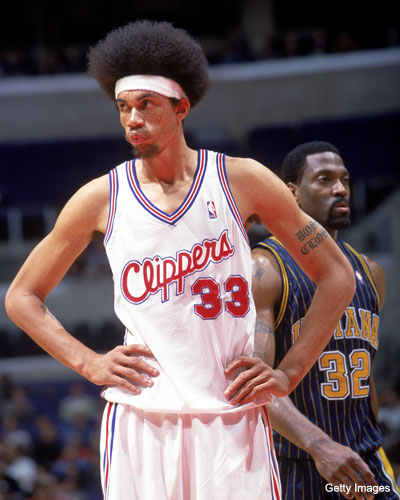 He, uh, kinda stands out. He's 7'3″ and he played for the Clippers. It was pure entertainment when he went on the court. I mean, look at that handsome guy. Ha ha ha.
He didn't play very minutes for the Clippers. He didn't even last very long. I think he only played for three seasons. Sure, he blocked shots in pretty good frequency… but Closs is also 7-feet-3. Come on now. And I can't really confirm this but people told me he be talkin' mad shiz during games!
Later on, Closs became more infamous for this little beatdown. YouTube!
I also found out from the good people from SLAM about this little number here. Whether or not that this was true, it has got to be one of the most hilarious stories I had ever read.
Keith Closs was apparently chain-smoking in China of all places (where he played last year)… and was wearing his Dallas Mavericks jersey (with his name on it and everything). Except he never played for the Mavericks. Ha ha ha. That's awesome. I want to see more NBA players that never made it past the bench wear customized jerseys of themselves for teams that they never suited up for.
Closs's latest basketball adventures have taken him to the D-League… and back to China. I also read that he wanted to become (get this) a naturalized citizen of the Philippines so he can play for their National team. That article also shows a quote of Jerry West talking about Closs's skillz. Hot damn. If Jerry West notices him, then Keith Closs must be THAT awesome.
Oh, and one more video… because this is just stuff of legend.
No surprise that he blocked two shots in a row. Again, he's 7'3″. But what's more awesome was that (at 0:13) he flexes after those two blocks! In some sort of rec league! Hellz, yeah! And they now refer to him as… Tall Can?
Keith Closs should have a category of his own. Why did I put him under the "obscure" label?! Tall Can should be a legend.