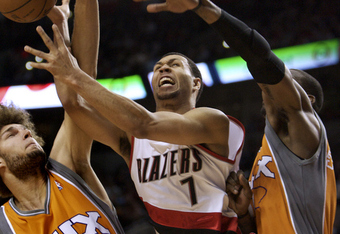 Last night's Portland/Phoenix game was probably the best one I had watched all season. I think Phoenix is returning to their run-and-gun ways, which is best for their personnel, anyway. And Portland has been ahead of schedule when it comes to building their team. As for the game itself, it was back-and-forth action and we really couldn't blink. Before we knew it, the lead had changed hands. And again. And again. Sure, both of these teams weren't exactly playing defense. But both their offenses were on fire, nonetheless.
One player in particular rose to the next level with this game. Brandon Roy had been on fire in the last week (scoring 30, 33, 38, and 29 in his last four games)… but he was a killer on this nationally televised game. Roy willed his team to a five-point win, including the game-clinching three with a minute left. Brandon Roy finished with 52 points. And his career-high before the Phoenix game? The aforementioned 38-point game against the Clippers.
I think the Suns will be okay. The Jason Richardson acquisition gave them new life and, as mentioned, they will return to what made them exciting and deadly: the fast-break, high-octane offense that Steve Nash thrived under.
On the other side, people that watch the league everyday know what Brandon Roy can do… but he was never really mentioned in the same breath as Kobe, Lebron, or D-Wade. Even Greg Oden gets mentioned more than Brandon Roy. But now? I think people will take notice. Not only of Roy but of this Portland team.
I don't think anyone will argue anymore if Roy makes the All-Star team this year.