First off, I read from SLAM that Joe Maloof suffered a stroke. And also, Cat Mobley, who last played for the Clippers, chose to retire because of his heart condition. My hopes and prayers go out to those two and hope they stay healthy.
Well, there was a huge trade between Charlotte and Phoenix. Jason Richardson, Jared Dudley, and a second-round pick go to Phoenix. Boris Diaw, Raja Bell, and Sean Singletary go to Charlotte.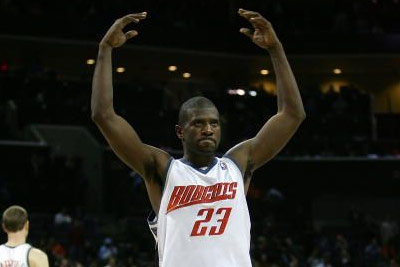 My first thoughts? Looks like Phoenix is going back to that Run-and-Gun style. Boris Diaw hasn't been the same since he won Most Improved Player and Raja Bell has gotten old real quick. It'll be fun to watch Phoenix again, though, yes, they have lost some depth. Reportedly, Steve Nash was upset about the trade since Raja Bell was his best friend on the team. Then again, I can't imagine Nash being happy with a lot of the moves made by Phoenix as of late. I haven't seen Jared Dudley play at all (it IS Charlotte) but what I'm hearing from various NBA people is that he's quite the baller and that he would fit into the fast-paced style of Phoenix.
Still, it made me wonder on why the Bobcats traded for J-Rich in the first place. Yeah, maybe these are Larry Brown's type of players but those guys aren't setting the world on fire. He'd better turn his boy, D.J. Augustin, into a superstar because Gerald Wallace probably won't play more than fifty games for them this year. He did go off for 28 points, 7 assists, and 4 steals last night! But back to Diaw and Bell… maybe their careers will be rejuvenated in Charlotte.
Phoenix will be fun to watch again but I don't think it changes the landscape of the West much. It's still the lazy Lakers on top and then everyone else.
As for Charlotte? Wake me up if they become a very good team.