The Phoenix Suns that we know are run-and-gun. Exciting. Scoring machines. And they were one of the elite teams in the league. And Steve Nash was, or still is, one of my favorite players in the league.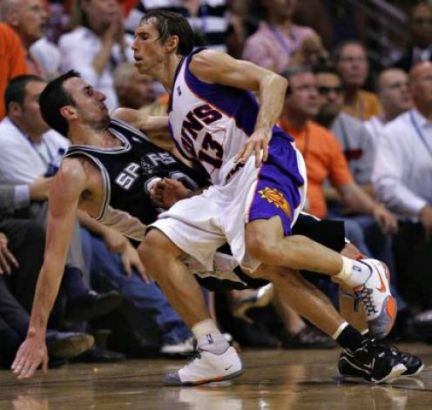 But now… I wonder what they're doing with this bunch.
They're still pretty good but are they on the Lakers/Celtics/Cleveland level? Nope. But I just kept wondering of the what could have been. Not only were players filled with immense egos but they were also stricken with some bad luck.
Nash's first year back with Phoenix was outstanding. They made it to the Western Conference Finals. But Joe Johnson didn't play in the whole series. Then after that year, he wanted out because… he wanted to be THE man. So he was shipped out for Boris Diaw and some picks. Diaw would end up winning Most Improved Player the next year.
The next season? Amare Stoudemire was out for a whole year. They still made it to the West Finals but without him, they couldn't get past Dallas.
The following season? They were finally in full strength… but what happened against San Antonio? The NBA comes down on Stoudemire and Diaw with that stupid rule about players stepping over the bench area. They would get suspended on an all-important Game 5… and would eventually lose in six against the Spurs.
Then last year, Shawn Marion felt underappreciated. According to Nash, the locker room just didn't feel right DESPITE having the best record in the West. So he was shipped out for Shaquille O'Neal. They couldn't get it together in time. They were eliminated once again by the Spurs, this time in the first round.
Now Mike D'Antoni is out and Terry Porter is in… and Porter's put in a half-court offensive system to cater to Shaq. Lately, they've been loosening the reins so Nash can get back into the freewheeling style that's made him MVP. To Shaq's credit, he's played really well since coming over from Miami (while Marion has been pretty lost). But the rest of the team is so used to running up and down that it's gotten chaotic in Phoenix.
What's my point here? I thought Phoenix missed out an opportunity to be one of the mainstays at the top like San Antonio had been. It's like they never got a fair shake. Yeah, injuries happen but they never got through a year (before the Shaq trade) where they were in full strength. I mean, this seemed like a potential dynasty: Nash, Joe Johnson, Stoudemire, Marion in your line-up?! And veterans would join in (and, most likely, take paycuts) just to play with those guys! They were probably set for the next six years and if it wasn't for players "wanting to be the man" (like Amare is right now), they would probably just reload every year with new weapons. I truly believed they could have won a title in the past five years with that line-up. They weren't THE best defensively… but they would've played ENOUGH defense to get to a title (they were winning low-scoring games in the last few years).
Ahh, what could have been.