Every time me and my B-Ball friends get together, we inevitably make fun of obscure NBA players. The lovable bench guys from each team. From the sixth man to the one that never gets any burn. I think this whole thing started because one of my friends showed us his old basketball cards. Ya know… NBA Hoops, Upper Deck, or SkyBox.
Our favorite "obscure NBA player" moment was when a friend of ours, Big Joe, tried to have a serious discussion about NBA greats. Unfortunately for Joe, my friend, Illastrate (who blogs Terry Dehere For The Win), couldn't help himself.
BIG JOE: "So let me ask you this. Who… is… the greatest point guard of all-time?"
ILLASTRATE: "JOHN CROTTY!"
Joe couldn't believe he said that but all of us laughed for a good 15 minutes.
Which begs the question… where IS John Crotty nowadays?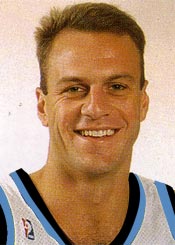 First off, to those who don't know who John Crotty is… well, he was a left-handed journeyman that played for more than a decade in an NBA. He played for seven teams but was mostly known for backing up John Stockton in Utah. I thought he was a good back-up at the 1 but I didn't think he'd be any more than that. He had a career-high 6.9 PPG and 3.4 APG for Utah in the '01-'02 campaign (thank you, Basketball Reference, for making me look good!) before having one short stint with Denver to end his NBA career.
Where is he now? I read from various sources that he's now the radio analyst for the Miami Heat (one of the many teams that he played with). So, at least, he's doing well for himself.
Not bad for someone who wasn't drafted!
But to my man, Illastrate, he is the greatest PG to ever play the game. Right?!